P-CEP's clubs and activities muscle through bombardments from 2020 COVID-19 pandemic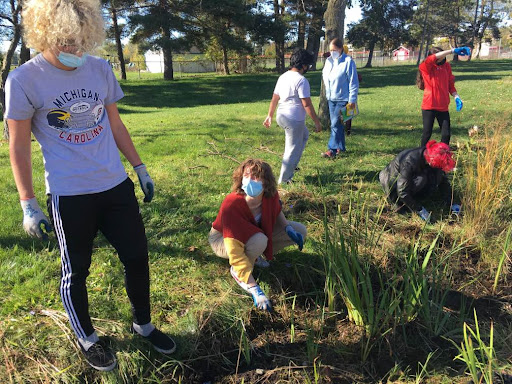 High school can offer students many opportunities: honing one's athleticism through sports, discovering interests with classes and creating social connections through clubs.
But COVID-19 may spell out a different story for this year. The COVID-19 pandemic has affected the whole world, including our schools. During the 2019 and 2020 school years, COVID hit P-CEP hard, virtually overhauling our entire curriculum. 
P-CEP's clubs and activities were forced to make compromises to help mitigate the spread of the coronavirus pandemic while P-CCS offered remote classes during the 2020-21 school year. Clubs were limited to online video conferences and outdoor gatherings. When meeting in person, face coverings and social distancing were required for all participants. These precautions kept clubs and activities operating, but not at their usual capacity.
Alisha Shaik, Salem sophomore and member of the Salem Congress, found the use of Zoom widespread for P-CEP clubs and activities during the 2020 school year. "In my freshman year, everything was on Zoom. Debate Team — all the debates were on Zoom. Salem Congress meetings were also on Zoom," said Shaik.
Shaik also expressed how her clubs' number of in-person events were greatly reduced, giving her an inaccurate gauge of the experience that each club would typically offer. "We didn't have that many in person events, so I wasn't that sure of what Congress was," Shaik said. "But once I got in person and was in the club, it was much more involved than how it was on Zoom." 
Richard Mui, Canton teacher and the adviser of P-CEP's Asian Pacific American Club (APAC), oversaw students as they participated in activities as they typically would hold last year. "APAC — we talk about history, we talk about culture, issues that affect the community. So, we're able to still have those discussions over Zoom," said Mui. "It's a little bit different, but especially after a day of Zooming you would think kids wouldn't be as interested, but they really were."
Although, not every club experienced the same hardships. Jaspreet Kaur, Salem junior and head board member for the Eco Club, said her club was able to operate at full capacity. Eco Club was successfully able to continue traditions, maintain their projects and educate people during the 2020 school year.
This year P-CEP may have a different narrative. Kaur witnessed a record amount of turnout for her club during P-CEP's Fall Extravaganza in late September. "I definitely think our club, personally, had a lot more success this year. We got a lot of signatures on our sign-up form, and we got a lot of new members this year. I think that we had more members than we've ever had in the past three years," said Kaur.
Even though COVID-19 has introduced many changes to the Park, Mui and Kaur are feeling very optimistic about their clubs' plans for 2021. "We have a whole calendar planned, and assuming everything stays relatively well, then we're gonna keep on," said Mui. "But knock on wood, I think we're going pretty well."
Leave a Comment