Breaking a school record can mean a lot to any athlete. It means even more to, Canton senior cross-country runner, Mitchell Clark because it wasn't just any record he broke, it was his brother's. On Sept.19, 2023, Clark ran a 15:39 5k, beating his brother's [Zac Clark] old record of 15:58. This season has been historic for Clark and the Chiefs, the team came in fifth place at the MHSAA Division One State Finals meet on Nov. 4, 2023, Canton's first State Final in decades. The Perspective sat down with Clark to get an inside look at how he sets himself apart from the average runner.
Brody Klein: What has led to your individual success this year?
Mitchell Clark: "My team has contributed to my success. Having people that I know will show up and work hard every day is motivating. You wanna keep going for them."4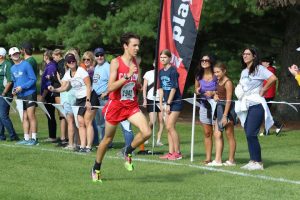 Brody Klein: What was the experience of breaking a school record like?
Mitchell Clark: "It was pretty cool because it was my brother's [Zac Clark] school record. So that added an extra layer to it. I felt confident I was going to break the record. We had another teammate do it this year too. [It was] a really cool moment." 
Brody Klein: What are your plans at the collegiate level?
Mitchell Clark: "I'm looking at a lot of schools to run at. I would love to run [at] college, but I'm also focused academically."
Brody Klein: How has your coach [William Boyd] been this season? 
Mitchell Clark: "He understands that he has a great group of kids. We are the best team in school history. We couldn't have done it without him." 
Brody Klein: Have you won any awards to this point in your career?
Mitchell Clark: "I haven't won many awards in previous seasons, but this year our team has won a lot of trophies. I also won KLAA All-Confrence and medals at pretty much every meet."
Brody Klein: What award meant the most to you? 
Mitchell Clark: "When I got second place in the Michigan State University invitational, it was the best I've done in an event. It was a big deal for me."
Brody Klein: Have you ever been nervous for a meet? If so, how do you combat that?
Mitchell Clark: "I can get really nervous before a big event, but when it's the day of the meet, I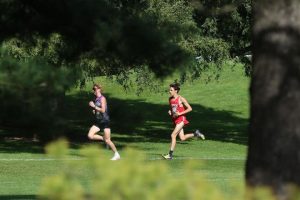 put on some music and just zone in. I feel like I'm pretty good at handling the nerves."
Brody Klein: What is some adversity your team has faced this year? 
Mitchell Clark: "We had some illnesses throughout the season. There was one meet where the top four [runners] didn't run. Overall we have been pretty lucky with injuries because we take strength training seriously.
Brody Klein: What kind of team bonding events have you guys done? 
Mitchell Clark: "It's just a big friend group we get food after every signal meet. Sometimes, we just hang out during the weekend for fun."