Jeff the security guard protects P-CEP
Hang on for a minute...we're trying to find some more stories you might like.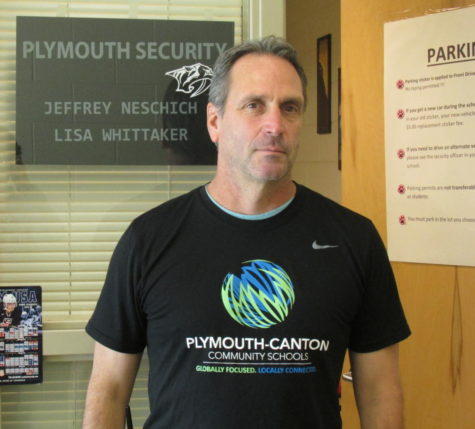 Photo by Tony Schembri
Jeff Neschich, Plymouth security guard, has worked at Plymouth for over 30 years. Neschich coaches Plymouth Boys Soccer in the fall and Plymouth Girls Soccer in the spring, but he is a security guard year round.
Neschich is a Salem alumnus, who used to play Salem soccer back when he was in high school.
A day in the life of Neschich starts off by patrolling the parking lot and making sure everyone is staying safe. After Neschich is done patrolling, he makes his way inside of Plymouth where he makes sure that nobody is vaping in the bathrooms, which according to Neschich is one of the biggest problems at Plymouth.
Neschich said he enjoys "the positive interaction" he gets with everyone at P-CEP. Helping people out is Neschich's favorite thing to do, and according to Neschich, "It is different every day," which makes his job interesting.