Winter: Dreadful or Delightful?
Hang on for a minute...we're trying to find some more stories you might like.
Winter has always been one of those seasons that I either love or hate when it arrives. As a child, it was one of the most magical sights in the world to look out the window at the first snow of the season. Vivid memories of going outside for recess all bundled up with two pairs of gloves, snow pants that were far too big, a hat, two scarves, a giant, puffy coat and snow boots come to mind. I would stomp my child size 13 feet into the giant mounds of snow, thinking that nothing could ever bring me so much joy. I remember standing outside with my face up to the sky, tongue out looking completely ridiculous, trying to catch a snowflake.
I can still picture myself falling on my butt multiple times as I slipped and watched my life flash before my eyes on the large patches of ice on the playground. For some reason, I have no recollection of ever complaining about the cold as a kid. I think I just loved the snow so much that I didn't really question the "Michigan" weather.
Now, fast forward over 10 years and here I am, cursing the sky as the snow falls down and the harsh wind burns my cheeks. While winter is by no means my favorite season, there are clearly pros and cons to the frigid, blustery four months.
Winter usually starts around mid-November, at least for us Michiganders. The phrase, "That's Michigan for you," is heard all around by grumpy adults and teenagers alike. Some people enjoy the colder weather, but I personally can't relate.
Now, I will admit that after I've been sitting inside a classroom for an hour and the heat is on, getting all toasty, it does feel nice to step outside and feel the cool wind whip around me. Sometimes it's refreshing and satisfying to feel the snow crunch underneath my boots.
Since I have an older sister whose birthday is on New Year's Day, there is another part of winter that I enjoy. Winter is a season full of different celebrations and events of giving and just having a good time with family and friends. Gathered around the fireplace, hot beverages in hand, there's a lot to love about it. Spending time outside admiring the beauty of the snow, ice skating and having snowball fights are other good reasons to enjoy the season.
But for the most part, it's grueling. Waking up before the birds, looking out the window and sighing as you reluctantly abandon the warm haven that is your bed, the below freezing wind chill temperatures, the inches upon inches of snow and the time-consuming scraping of ones car at 6:30 a.m. are much to be desired.
Listen, winter–you may be cold, dark, brisk and wet, but you aren't completely awful either. As I've gotten older, in many ways I've begun to hate you more and have gotten increasingly more irritable as my true homebody nature comes out. Maybe when I get a little older, I'll like you a little more. But as of right now, wake me up when it's spring.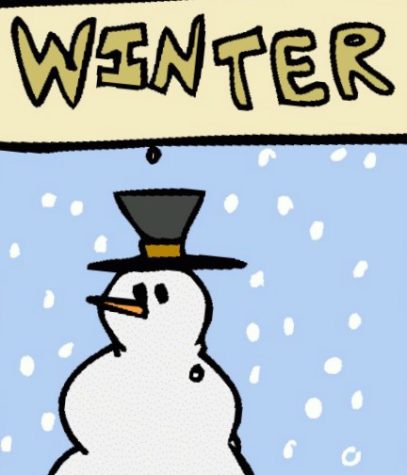 About the Writer
Emily Gilbertson, Design Editor




Emily Gilbertson is a senior at Salem High School and one of the Design Editors at The Perspective. She works primarily on the online edition...