The fight for the governor's mansion begins
Michigan voters are preparing to select their next governor on November 8, 2022, and campaign season is entering full swing. 
The race currently stands at a virtual tie between incumbent Democrat Gretchen Whitmer, first-term governor and former state legislator, and former Detroit Police Chief James Craig, the current frontrunner in a crowded primary for the Republican nomination. 
A poll on the race was released on January 12 by The Detroit News and showed that 48.6% favored Whitmer, 39.1% favored Craig, and 11.7% stood undecided. This same survey found that Whitmer holds the approval of 56.2% of Michiganders, compared to 38.7% who disapprove of her performance in office. Earlier polls released September 21, September 20, and August 22 by the Trafalgar Group, Strategic National, and EPIC-MRA showed a much closer race, with the Trafalgar Group showing Craig up by 6% and the two others both having Whitmer leading by 1%.
Whitmer has the definitive fundraising edge. In the third quarter of 2022 she raised $3.1 million, for a total accumulated war chest of over $17 million. Craig, meanwhile, has raised $1.4 million for the same quarter. 
Both candidates have historical trends working to their advantage. Since the election of 1970, the state has only elected a governor from the same party as the president three times. However, in that same time period, an incumbent running for re-election has only successfully been ousted once. 
The national environment is close. The generic ballot is a polling metric used to weigh national partisan attitudes, focusing on whether voters are more willing to back the Democrat or Republican party in name, setting aside attitudes towards specific candidates. As of January 12, FiveThirtyEight, a statistical analysis site, finds the Republican Party to be up by an average of 0.6%. 
Midterm elections are often a reflection of the attitudes towards the party in power nationally. President Joseph Biden has fallen out of favor in the majority of polls. As of January 12, FiveThirtyEight rates Biden's disapproval amongst all adults at 7.2% higher than his approval. That number rises to 9.4% amongst likely voters, likely due to the large concentration of Democratic support in younger generations which tend to turn out in smaller numbers. 
Presidential approval is not directly tied to midterm results, but more often than not serves as an indicator. For comparison, on January 11, 2018 former president Donald Trump's net disapproval stood at 15.9% amongst all adults, and 13.4% amongst likely voters; the democrats went on to win the 2018 generic ballot vote by 8.2%, the current record for midterm elections this century. 
The top issues of the cycle are starting to identify themselves as well.
"Women's rights," says David Splan, a first-time Northville voter. "COVID and education," says Joseph Takacs, another voter. 
The candidates share some stances but vary in others. 
The United States Supreme Court is set to potentially roll back the abortion protections established in Roe v. Wade and Planned Parenthood v. Casey through the Dobbs v. Jackson Women's Health Organization case, which, if overturned, would kick regulations on the topic back to the states.
In the event that Roe is overturned, a currently nullified 1930s state-level law banning abortion and criminalizing providers who offer abortion services would immediately take effect. Whitmer has repeatedly called on the state legislature to repeal the law, while Craig is self-described as "pro-life" and has vowed to uphold the law. 
In stark contrast from the start of the pandemic, the candidates have both evolved to adopt similar COVID-19 policies. Whitmer built a national profile with her preventative measures, which have long since faded away. Both have in the past enforced mask mandates. Whitmer endorsed masks with a state-wide mandate and Craig endorsed masks with a mandate to the police department he led, but both have since declined to continue mandating them. 
"I do not anticipate another pandemic order, not in the near future and maybe not ever," Whitmer announced to a crowd in Detroit. 
As for vaccinations, both have publicly expressed opposition to government-enforced mandates while still encouraging vaccination by choice. 
One primary issue within education has taken the forefront of the national stage; critical race theory, a system of thinking believing racism to be an institutionalized issue, rather than just simple individual biases. 
"Instead of defending the irresponsible and dangerous implementation of critical race theory, [Nikolai] Vitti should focus on raising test scores in Detroit Public Schools Community District, where math proficiency is around 12% and reading proficiency stands at just 18%," writes Craig on his Facebook profile on December 1. Whitmer is yet to take a strong public stance. 
Critical race theory has recently come under intense fire by the Republican Party, with many state legislatures moving to ban the teaching of the system in K-12 schools; despite the fact that it is not currently taught by any public K-12 institution in the nation, leading to allegations of the movement being nothing more than just another racially motivated scare tactic. 
This race will be close and could determine the future of Michigan policy for years.
Leave a Comment
About the Contributor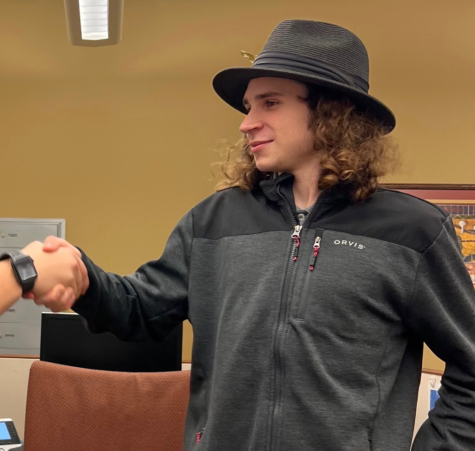 RJ Doroshewitz, Editor-in-chief
RJ Doroshewitz is a senior at Salem High School who has a wide variety of interests. He currently works in election administration and greatly enjoys politics....