P-CEP's Rising Stars: Heather McCorkle
Heather McCorkle, Salem senior, is an 18-year-old song artist who is among one of the many talented students attending the Plymouth-Canton Educational Park (P-CEP). 
Born in Arcadia, California, McCorkle moved to Michigan at only a year old, where she began to engross herself in a world full of music shortly thereafter. At just the age of four McCorkle began to sing, often being inspired by her mother and using the skill as bonding moments for both her and her family. 
Growing up, McCorkle took a natural interest in singing before eventually turning to writing songs as an outlet for the inspiration striving from both influences on her life and personal feelings. 
McCorkle says that her inspiration comes most when she is in nature because it "inspires [her] to be creative and makes [her] feel at peace, [allowing her] to get lost in thought, which generates more creativity and nostalgia." 
This interest inspired McCorkle to begin performing in front of audiences. She has performed during open-mic nights, choir events and has even performed as an opening singer for Olivia Dear in March of 2022 at the Trinity House Theatre in Livonia, Michigan. 
And luckily for McCorkle's music career, when th
e COVID-19 pandemic caused life to come to a halt, writing lyrics became one of McCorkle's biggest outlets.. 
At the beginning of quarantine, McCorkle began to frequently collaborate with Roman Bonacorsi, a close family friend, by writing lyrics and recording music. 
They often used an app called GarageBand, which creates beats and tunes. Doing this allowed McCorkle to turn music into her stronghold, allowing her to articulate her emotions through words and creating a feeling of certainty and steadiness during "the craziness of the world".
This collaboration led McCorkle to publish her first song titled angel (rough draft), which was created during the early months of the COVID-19 pandemic. 
McCorkle states that most of her songs tend to be sad and that the inspirations for angel are McCorkle's personal emotions experienced during the early months of the pandemic. Angel served as a way to express the loneliness and isolation she felt during the quarantine time period. 
The process of writing and publishing a song, however, requires quite a bit of time, thought, and perseverance. For McCorkle, the exact time needed to produce a song depends on what song it is, but for her, there are many different parts of producing a song. 
The first is writing lyrics, which comes both naturally and quickly for McCorkle. The next is creating the music, which is a bit more difficult and lengthy in its formation. Sometimes McCorkle formats the melody and lyrics before the music, but other times the music is created first.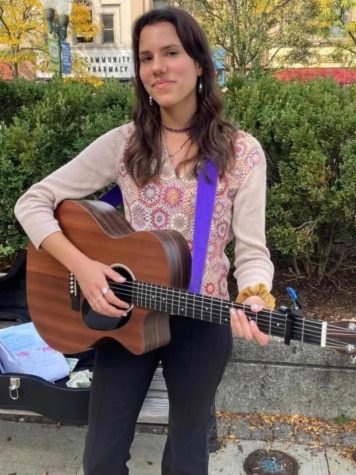 Creating a song can take as little as a day or as long as a week, and even longer for McCorkle. 
The process can take longer when she goes to a studio to record a song. 
For two of her songs, McCorkle went to Plymouth Rock Recording, located in Plymouth, Michigan, where she played instruments such as the guitar, to create her tunes. After that, both she and a music producer, Haruki Hakoyama, edited and produced the songs. 
McCorkle envisions herself performing in front of larger audiences one day, but for now, she plans on going to Grand Valley State University, located in Allendale, Michigan, to major in English while minoring in music. As her final weeks in high school come to an end, McCorkle has cemented herself as one of P-CEP's rising stars.
Leave a Comment