P-CEP Orchestra's tune-up for their spring concert
As the curtains swung open and stage lights flicked on, Plymouth-Canton Community School Orchestra's powered through "Dvořák: Symphony No. 9 'From the New World'",  "Vanishing Point", and more in their final performance of the year, the "Pops Concert," held at Eastern Michigan University in Pease Auditorium on May 7, 2022.
"I'm really excited, because I think I've wanted to do this piece for probably the last three years, the Dvořák. I've wanted to conduct it for several years. So the fact that now, we're finally able to get on stage and do that [is exciting]," said P-CEP's Orchestra Director, Michael Edwards.
The fourth movement of "Dvořák: Symphony No. 9 'From The New World'" was performed by P-CEP's Symphony Orchestra and Band, which was composed in 1893, and explores Antonín Dvořák's experience of traveling from his home country of Czechia to America.
"I think I told [the orchestra students], right before the pandemic, I had just passed out Dvořák to the orchestra. I was teaching at the time. So to come back and close the year with it, I think it's nice," Edwards said.
The pandemic affected students in many ways, especially P-CEP's Intermediate/Advanced Orchestra, who performed "Serendipity Suite" and "Impact." Most students learned to play their instruments over Zoom calls last school year.
Chad Hutchinson, Orchestral Director of Eastern Michigan University, said, "It's really cool, being able to play for live audiences again, because that's something that you miss. [We were] just performing for the camera for the last couple of years. So having that response from other people, giving it back is important as well." 
The P-CEP Orchestras typically perform in the Gloria Logan Auditorium at Salem High School, but were able to relocate to the Pease Auditorium at Eastern Michigan University due to ongoing construction at the high school.
"Honestly, if I hadn't performed there as a college student, I would have different feelings about it than I do now. I'm really excited for the venue change," said Edwards. "I've been on the other side of that for years, as a performer on that stage. But being in the other direction, I'm really excited for that. It's a little bit of a home for me, so it'll be a nice return to home in some ways."
The P-CEP Orchestras were previously led by Catherine DePentu, who retired after the 2020-2021 school year. Edwards took on the role of Orchestra Director this school year.
The Beginning Orchestra was led by Rachael Palajac and Edwards, but Palajac is currently out on maternity leave. Edwards is now the primary teacher and conducted the group during the concert. The middle school students went from picking up their instruments for the first time to playing "Rock Riffs," "Fiddling Farmers," and "Cripple Creek" at the Spring Concert.
The Concert Orchestra recognized their seniors at the concert after playing "Lion City" and "Fire in the Forge." 
The most memorable part for all parents and players was the combined orchestras'  performance of "Croc Rock," a piece composed by Bob Phillips. Members of all grades performed together on the stage, rocking the audience off their feet.
All P-CEP Orchestra seniors banded together to say their goodbyes and perform "The Odyssey," a piece chosen by the seniors themselves. With no senior bass players, Edwards volunteered. 
"I mean, I'm excited for college, but I also wish that I could have more performances and stuff because I know I'm gonna miss it," said Lily Bird, a senior cellist in the P-CEP Symphony Orchestra.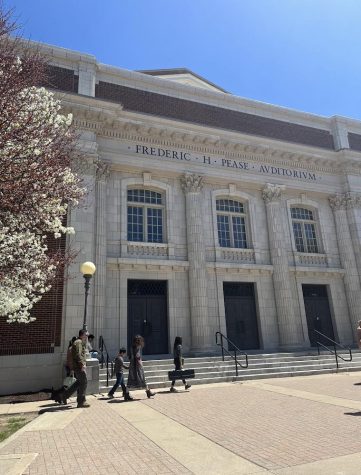 "Vanishing Point" is a piece written by New Jersey native Richard Meyer. The piece was performed by P-CEP's Symphony Orchestra, and featured soloists Annabelle Zhen, Ivan Urcia, Gabe Johnson and Lily Bird. Richard Meyer composed "Serendipity Suite," performed by the Intermediate/Advanced Orchestra. 
The Symphony students also performed "Montagues and Capulets" from Romeo and Juliet.
"I think that the best part sometimes is, I'll sort of go back to where the students are waiting. Just seeing the students getting ready and warming up and tuning their instruments and preparing. I like to feel that excitement." said Hollie Saraswat, Orchestra parent and board member.
 "I'll say that one of my favorite times of anything is right after you finish a piece before the audience claps because there's like an energy, right? You've just finished playing, the orchestra, you know, maybe bows are in the air or there's an energy there, right when you finish a piece. That's just amazing." Hutchinson said.
Leave a Comment
About the Contributor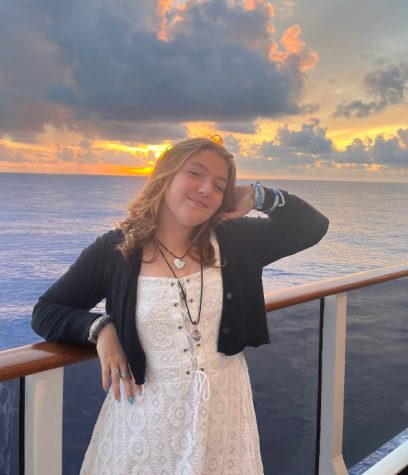 Samantha Knight, Staff Writer
Samantha Knight is a Salem senior and Arts Academy student. She enjoys writing, music and playing lacrosse, and she is on the Salem Girls Lacrosse team....