The lockdown at P-CEP continues to affect the community six months later
"It was very quiet, but you could feel the panic," said Isabella Tulchinsky, Salem senior, when describing her experience in the December 2021 lockdown at the Plymouth-Canton Educational Park (P-CEP).
All three schools at P-CEP were placed on lockdown on December 9, 2021 after an unconfirmed report of a person with a gun on campus circulated to the staff. 
During the lockdown, law enforcement officials searched each school. When it was confirmed that no weapons were found and that no injuries occurred, students and staff were released. 
The lockdown lasted approximately five hours, and though the situation was a false alarm, it continues to impact the community today in different ways.
The lockdown occurred shortly after the mass shooting at Oxford High School on November 30, 2021. The close dates intensified the initial reactions of fear to the lockdown for some students.
"It was a week and a half before [the lockdown] that [the Oxford shooting] happened," said Neha Rao, senior at Salem High School, when describing her initial response to the lockdown. "It was really shocking to think that the same thing happened in our school—not exactly, but that same kind of feeling."
Because of her experience with the lockdown, Rao has since become more politically active in dealing with gun violence. 
"[The lockdown's occurrence] made me want to make reforms and changes. Not just to our school but throughout the country," said Rao.
Representative Ranjeev Puri, a Democrat representing the 21st district in the Michigan House of Representatives, is one of the few Michigan legislators with small children. He serves on the School Safety Task Force, a bipartisan group within the Michigan House.
"I can say firsthand how it's every parent's worst nightmare to get that phone call," said Puri.
Puri described the effects that such an experience can cause.
"Some of the effects may not be visible in the short-term, but at a minimum, subconsciously, I think [the impacts] affect everybody differently," said Puri. 
Rather than Puri's beliefs about gun violence prevention changing as a result of the lockdown, the experience instead served as a reminder that changes must be made. 
Puri said that he has been an advocate for gun control long before the lockdown happened. 
"I came to be a legislator with [gun violence] being one of my top priorities, and it's already something that I'm pushing very hard," said Puri. "[The lockdown] was a reminder that we can't take our foot off the gas. This is one of my top issues and will remain to be a top issue."
According to Puri, over thirty pieces of gun reform legislation were introduced this term before both the shooting at Oxford and the lockdown at P-CEP, none of which received a committee hearing.
While parents and the larger community as a whole were affected by the incident, the event had a different impact on the students who lived through it. Six months after the lockdown occurred, some students are still deeply affected, while others have moved on.
Rao believes that the lockdown's lack of severity compared to other forms of gun violence "shows how something not as serious can have such a huge impact." 
Other students were impacted more slightly.
"These things have kind of been happening for a while. It's kind of in the back of your mind, but nobody's thinking about it every single day," said Ashika Gangur, senior at Salem High School. 
Gangur said that her mindset and view on gun control has not changed after the lockdown. 
"I was pretty dead-set on my gun control views after Sandy Hook," said Gangur.
Tulchinsky also has not experienced any major changes in her mindset.
"When I'm in my regular day-to-day routine, I still feel pretty safe generally," said Tulchinsky. "However, there is a slight amount of apprehension when I think about it. You're just dozing off in class, and you're like, 'something could happen right now.'"
Though they have not been heavily impacted by the lockdown, both Gangur and Tulchinsky feel more aware of their surroundings. 
"If I'm going to a new place in the school, I kind of scope out the doors," said Tulchinsky. "I'm like, 'okay, where can I get out of here the fastest?'"
Students have different feelings as to whether P-CEP's response to the lockdown was sufficient. Some changes by the school included giving most students ALICE training and supplying classrooms with lockdown kits. 
"I think the school did the best they could," said Tulchinsky. 
Tulchinsky feels that the school should evaluate whether the changes it made are working effectively.
 "If those steps that [administrators] have already taken are being ignored, then I think they should do something else," said Tulchinsky.
Rao expressed frustration at her perceived lack of action from administration.
Rao added, "I've heard teachers talking about people preparing them with kits and stuff. That is good, but it [the burden] shouldn't necessarily be on them anyway."
In addition, there is uncertainty as to how changes, if any, should be made in the future.
Gangur said that creating background legislation to prevent more incidents originating from gun violence is the best form of change. She feels that emphasizing lockdowns and other gun safety responses instigates the perpetrators and instead wants to attack the problem at the grass roots.
"It will get better, but we will lose some people along the way, and I can't get over that," said Gangur.
Puri said that both schools and the state government should work together to take action.
"I don't think it's on any one body to take full responsibility," said Puri. "I think this is a situation where we need to be empowering all voices, all the way down to students themselves, to be telling us what is and is not working for them."
Tulchinsky, Rao, Gangur, and Puri all believe that changes must be made to end gun violence throughout the whole country. However, the future is uncertain, and progress surrounding gun control legislation has been historically difficult.
Puri holds an optimistic view for the future. 
"We can't ever lose hope," Puri said. "I'm very hopeful for our younger generation to get more involved, to start voting, and to start holding people accountable who don't share our values. I have a tremendous amount of hope, especially for our young students."
Leave a Comment
About the Contributor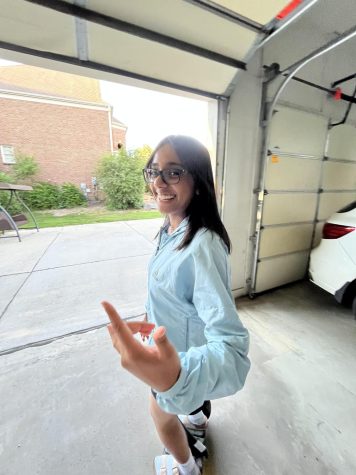 Sejal Naik, Copy Editor
Sejal Naik is a senior at Canton High School. She plays lacrosse and loves both reading and writing. She enjoys knitting, crocheting, photography and other...