'Meet Me At Midnight': Reviewing Taylor Swift's 10th Studio Album
From "Our Song" to "cardigan," Taylor Swift has taken the music industry by storm. Fans were ecstatic when she announced her tenth studio album, "Midnights," which was released on October 21, 2022. However, after its initial release, the album didn't live up to its high-set expectations. 
The album falls into Swift's pop category, differing from her eighth and ninth indie pop albums, "folklore" and "evermore." Pop music generally tends to be more mainstream, such as songs commonly heard on the radio. Indie pop is traditionally less "angsty," and is more melodic.
According to the New York Times' "Taylor Swift's Smash 'Midnights' Sells More Than 1 Million in a Week," the album sold "575,000 copies on vinyl, along with 395,000 on CD and even 10,000 on cassette. There were also 161,000 copies of the album sold as a digital download."
'Midnights' has had the most weekly sales since her 2017 album, "reputation." Swift also made history with the release of 'Midnights' by occupying all top ten spots on the "Billboard Hot 100" with tracks from the album.
——————————————————————————————————–
The opening track of the album, "Lavender Haze," is truly everything someone could ask for in the opening track for a pop album. The music is bright and upbeat, with catchy lyrics and harmonies that compliment the atmosphere of the upcoming tracks. The song sets the mood for the album, and could easily be considered one of the best. I rate this song 9/10. 
"Maroon", the second track, is a fan favorite amongst the community. The sounds reflect back to Swift's album "reputation," while simultaneously drawing comparison between the color maroon and Swift's signature color, red. This detail makes the lyrics interesting for longtime fans. I rate this song 9/10 as well. 
"It's me, hi, I'm the problem, it's me." This recognizable viral lyric stems from the third track, "Anti-Hero." This song has what are colloquially known as "hardcore pop sounds," with a strong beats and a solid electric feature. While some might not be a fan of the style employed, the lyrics can be compared to "folklore" and "evermore" with story-telling and deep metaphors. Though this song isn't for everyone, the clever lyrics such as " Did you hear my covert narcissism I disguise as altruism, like some kind of congressman?" can be easily appreciated. I rate this song 7/10. 
After a feature by alternative/indie artist Phoebe Bridgers in the previous album "Red (Taylor's Version)," fans were eager to hear "Snow On The Beach (feat. Lana Del Rey)." This track was a bit of a let down for some, as Del Rey only provided background vocals. Though the song is soft with stunning lyrics, it does not have much direction overall. I rate this song 6/10. 
"You're On Your Own, Kid," can be compared to songs on Swift's earlier albums, like "Red" and "1989." All of the songs share pop beats and summery lyrics. The lyrics of this track get better as it goes on, because it sounds like a progressing story. But, the melody starts to get repetitive. I rate this song 7/10. 
"Midnight Rain" is another simple pop track, similar to "Anti-Hero." This song is pretty average, with a nice sound but a basic chorus. It can be compared to songs on her 7th album, "Lover," with similarities in romantic and cliche lyrics. I rate this song 6/10. 
"Question…?" is a generally underrated song on this album. The fun lyrics and storytelling make it interesting to listen to. It could fit in with songs from Swift's album, "1989," as they are similar in the pop music sound. I rate this song 8/10. 
The true sister track of "reputation", "Vigilante S**t", was another let down for some fans. The track didn't have a lot of motion, and the lyrics aren't as great as some of the others. The phrasing seemed to run together as the track got more repetitive. But with its dark pop sound, people still enjoy it. I rate this song 5/10. 
"Bejeweled" is a generic pop song. It's fun to listen to and especially to dance to. But while just listening through the album, there isn't much to it compared to everything else in the album. Fans appreciate this song while comparing its parallels to "mirrorball," an appreciated  song on "folklore." I rate this song 6/10. 
The "dreamiest" song on the album, "Labyrinth," contains heavy synth-pop sounds. However, when aligning with previous songs, there is still not much direction or storytelling. Nonetheless, the song's euphoric vibe makes it a memorable listen. I rate this song 7/10. 
"Karma" is another song loved by fans, and for valid reasons. The "high pop" upbeat chorus and memorable lyrics combined with ethereal production makes it a fun listen for anyone. The lyrics can be compared to "Red," with metaphors littered throughout the song. The personification of the idea of karma makes this track a great experience for language lovers and those who enjoy wordplay. I rate this song 9/10. 
Nostalgia reeks from the song "Sweet Nothing," which features a simple piano tune and a basic melody. The song returns to the story-telling elements of some of Swift's old work, but the song is almost forgettable. There's nothing about this track, apart from the nostalgic elements, that makes it stand out. I rate this song 5/10. 
The closing track of the album highlights the records title, relating back to the themes of late-night imagination and dreaming. "Mastermind" tells the story of a pining love through interesting production and a captivating chorus. This was a great pick for the closing track. It truly wraps up the teenage dream of midnight love and captures the idea that everything feels a bit stronger after the sun goes down. The background effects are also interesting enough to make the track unique, while still aligning with the rest of the album. I rate this song 8/10. 
Swift also surprised fans with "Midnights (3am Edition)," a re-release of the album with 7 additional tracks. The new tracks generally all still align with the original aesthetic of the album, but didn't necessarily fit within the final cut of included tracks. Fans have raved about these additional songs, and it really made the album feel more complete.
This album overall explores the hardships of growing up, especially in a misogyny-riddled society like ours today. From low self-confidence to lulling relationships and the enemies we make along the way, Swift hits every spot in this late-night thinking inspired album.
————————————————————————————————————
Overall, most can agree this album wasn't Swift's best work. There are some great things going on throughout, but as a whole it didn't live up to most's expectations. The start of the album was great, but as it goes on, the sounds get more repetitive and all of the different songs start to run together. The album grew on me after a few more listens, however. Paying attention to the little details and unpacking the striking lyrics makes the listen more worthwhile. 
Overall, I would rate this album a 7/10. The highs and lows of the songs mostly cancel each other out, leaving listeners with a slightly above average album. The re-discovery of the pop genre was bound to happen for Swift, and I'm hoping it will only continue to go up from here.
My Track Ranking, from best to worst:
Lavender Haze

Karma

Maroon

Question…?

Mastermind

Anti-Hero

Labyrinth

You're On Your Own, Kid

Bejeweled

 Snow On The Beach (feat. Lana Del Rey)

 Midnight Rain

 Vigilante S**t

 Sweet Nothing
View Comments (1)
About the Contributor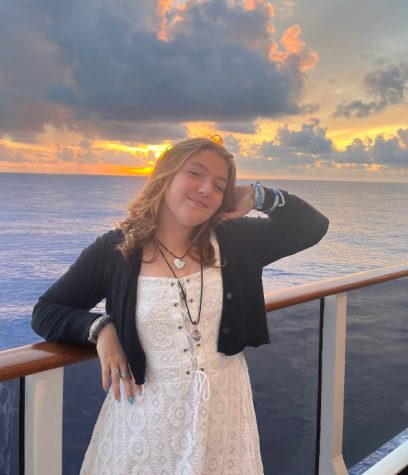 Samantha Knight, Fine Arts Correspondent
Samantha Knight is a Salem senior and Arts Academy student. She enjoys writing, music and playing lacrosse, and she is on the Salem Girls Lacrosse team....