Tigers take a losing sweep at their home opening series against the Red Sox
The Detroit Tigers concluded their home opener with 44,650 people in attendance at Comerica Park, according to theScore, with a 6-3 loss against the Boston Red Sox on Apr. 6, followed by two losses of 14-5 and 4-1.
Prior to the start of the opening game, players and visitors stood together for the National Anthem and the ceremonial first pitch, which featured a Detroit "Hall of Famer" from each of the other professional sports teams in Detroit. These included Calvin Johnson Jr., a former Lions wide receiver, Ben Wallace, a former Pistons center, and Nicklas Lidström, a former Red Wings defenseman.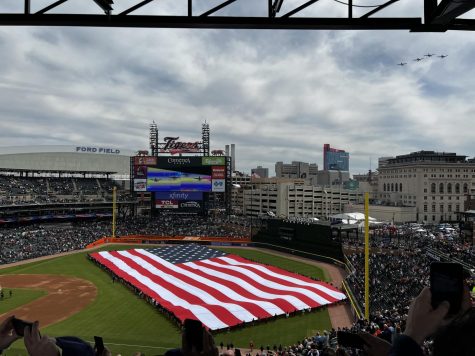 As the three prepared to throw their pitches, a tradition dating back to President Howard Taft in 1910 according to National Geographic, they stopped and gestured to Tigers designated hitter Miguel Cabrera to come out onto the field and throw a pitch with them.
Red Sox right fielder Alex Verdugo was the first to step up to the plate, with Tigers starter Spencer Turnbull on the mound. Verdugo ultimately lined out to Eric Haase in left field, Rafael Devers and Justin Turner followed the AB with a ground out and a fly out, which gave the Tigers three quick and easy outs to start off the game.
Matt Vierling, Javier Báez and Riley Greene were the first three batters to be penciled into the Tigers lineup, facing veteran ballplayer Chris Sale. The bottom half of the first inning started with an unexpected sequence of events as Vierling and Báez were walked on eight straight balls, which was followed up by a Red Sox mound visit, something that does not usually occur in baseball games.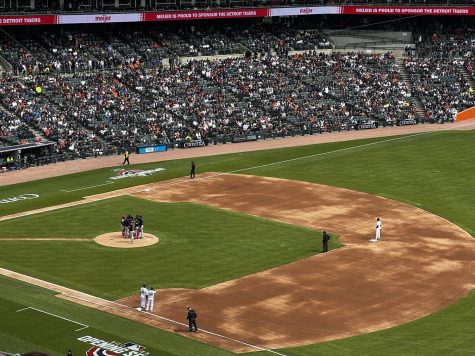 Unfortunately for Detroit, the mound visit seemed to prove useful as Sale struck out the next three batters: Greene, Spencer Torkelson and Haase.
Not so long after, the Tigers scored their first runs in the second inning. Following Miguel Cabrera's ground out to Devers, Jonathan Schoop took a walk and Jake Rogers brought him and himself around the bases with a home run to left field. Rogers also hit a homer in a previous game against the Tampa Bay Rays on Apr. 2, which was the game that marked his return to baseball following Tommy John Surgery.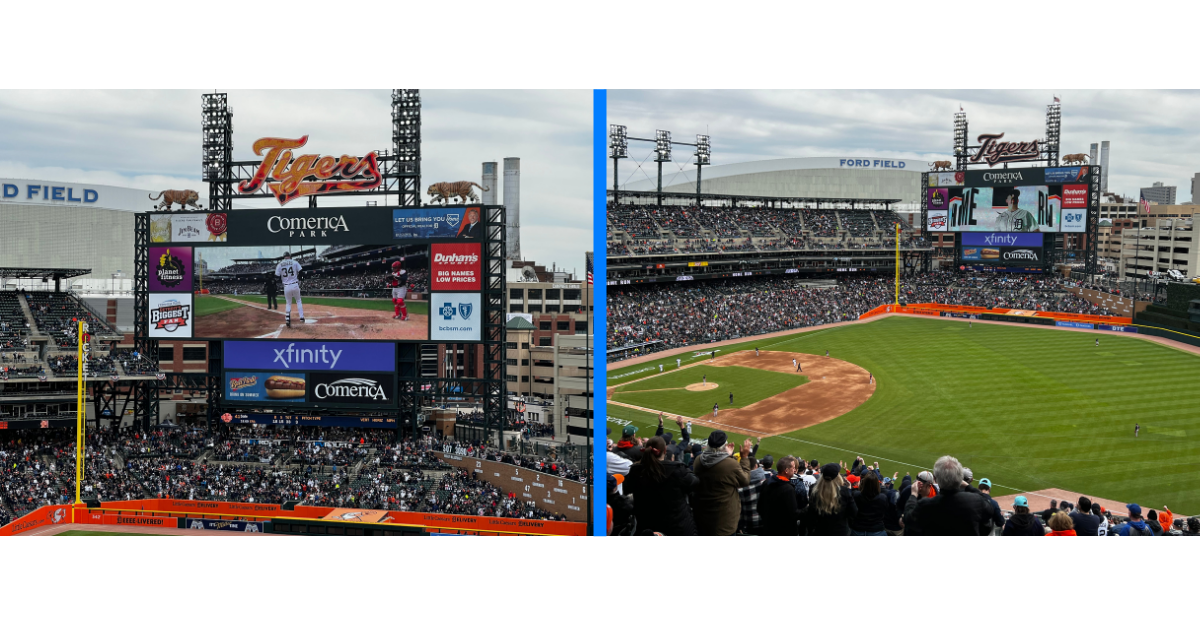 Rogers' home run kicked off the game's action. In retaliation, the Red Sox scored their first run in the next inning after Kiké Hernández hit a grounder with Christian Arroyo on third and Reese McGuire on first that resulted in a fielder's choice, putting a force out on at second and allowing Arroyo to score shortening Detroit's lead to 2-1.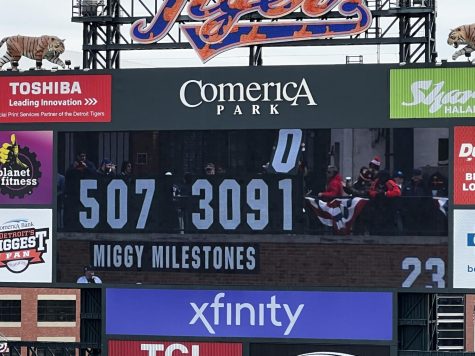 In the second half of the third inning, the Tigers recorded a couple of hits following two ground outs. Both Torkelson and Haase hit a single to left field, putting Haase on first and Torkelson in scoring position on third. Cabrera hit his own single to center field, recording an RBI and returning the lead to two at 3-1.
At the start of the fourth inning, Devers hit a home run to left field, once again shortening the lead to one at 3-2. Turnbull was unable to control a pitch with Turner in the batter's box and Turner was hit by a pitch, which allowed the Tigers to turn a double play in the following AB with Masataka Yoshida at the plate. Adam Duvall was the third out after hitting a pop-up to Ryan Kreidler.
The action began to die down for a little bit with two "one-two-three" half innings and three Tigers strikeouts in the bottom of the fifth inning. However, in the sixth inning, the Red Sox recorded three hits, a walk and four runs. After a Hernández groundout, Verdugo singled to right field and Devers drove him home with a double to center field and advancement to third. Yoshida walked following a groundout from Turner, which resulted in a decision to change pitchers from Turnbull to José Cisnero by Tigers manager A.J. Hinch. This did not prove helpful, however, as Duvall tallied three more runs for Boston with a homer to center field.
The Tigers only recorded two more hits in the rest of the game, a single from Vierling in the seventh and a double from Kerry Carpenter in the eighth, who was put in to pinch-hit for Haase. Fans were on their feet that inning as Nick Maton walked after Carpenter's hit and Rogers stepped into the batter's box and launched the ball to deep right field, but the ball did not go far enough and was caught by Verdugo.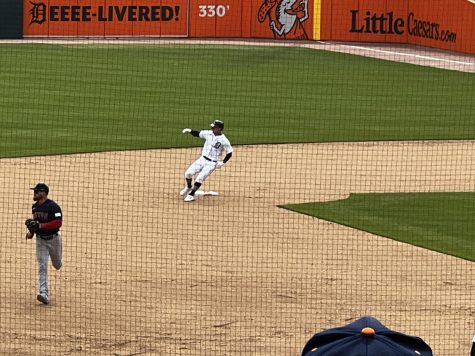 In game two of the series, the Red Sox were walked six times and recorded 12 hits allowing only six hits and four walks from the Tigers. In the ninth inning, Tigers second baseman Zach McKinstry was put on the mound following the performances of starter Joey Wentz and relievers Garrett Hill and Tyler Alexander. McKinstry faced six batters, giving up only two runs and three hits without walking a batter.
In the final game, the Sox recorded seven hits, four RBIs, five walks and nine strikeouts, versus the Tigers' nine hits, one RBI, one walk and 10 strikeouts. Returning Tigers starting pitcher Matt Boyd pitched 4.2 innings allowing five hits, two runs and four walks with four strikeouts.
The Tigers are scheduled to play their next game on Apr. 11 at 7:07 pm against the Toronto Blue Jays in their home stadium, Rogers Centre, with now a 2-7 record, which is tied with the Oakland Athletics as the worst record in MLB at the time of publishment.
Leave a Comment
About the Contributor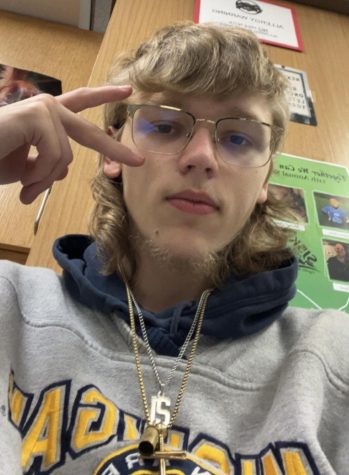 Teddy Morin, Co-Managing Editor
Teddy Morin is a Canton junior who unexpectedly took a passion for writing after discovering his love for writing country song lyrics and fictional stories....