May Perspective Student-Athlete of the Month: Mira Renaldi
Mira Renaldi, Canton junior, does it all; Canton Varsity Track and Field hurdler, Varsity Cross-Country runner, Canton Congress member and a first-year member of NHS. In 2022, Renaldi led her team at the KLAA conference championship in the 300m hurdles with a time of 49.96 seconds. After being nominated most for the Perspective Student-Athlete of the Month, The Perspective sat down with Renaldi for a conversation on her athletic and academic career.
RJ Doroshewitz, Editor-in-chief: When did you first get involved with track and field and what brought you to the sport?
Renaldi: I started in 7th grade at West Middle School for one year before we had COVID-19. Both my parents ran track and I wanted to try doing hurdles, obviously, track was the only way I could try it. I also had a couple of people that I met while doing track that really got me excited to come to practice every day and continue to work.
Lucas Gentilia, Sports Editor: I understand you run Cross-Country at Canton as well, which one of the two sports do you prefer?
Renaldi: Track and Field mainly, because I like running shorter distances.
Gentilia: What events do you run during meets at Canton?
Renaldi: My main would be 300m hurdles, and I also run the 100m hurdles and 4x400m relay.
Gentilia:  Keeping up with track and schoolwork is obviously a lot of work, how do you keep up with the workload and everything that goes on with track? 
Renaldi: It always takes some time to figure it out, but I'm able to manage both well.
Gentilia: What was what would you say is one of your favorite moments from track that you were the most confident and ready to play?
Renaldi: Probably my conference meet last year, where I placed all-conference [for the KLAA]. Everyone was super excited for it. There was a lot of good competition.
Gentilia: Before your meets start, are there any superstitions you have to prepare yourself?
Renaldi: Me personally, I always put on gold eyeliner. I also have this pregame playlist that I listened to and then I always eat apples and peanut butter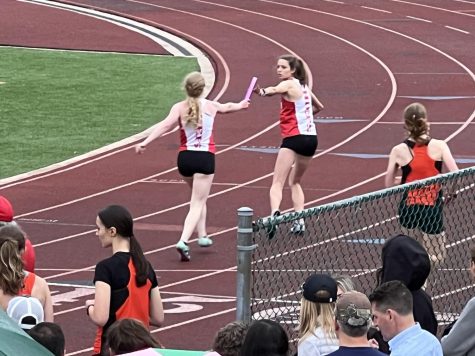 Gentilia: What would you say was one of your most nerve-racking moments during track and field, and how were you able to respond to that?
Rinaldi: Right before we're lining up and getting the blocks ready is probably when I'm most nervous. Then, I just kind of think to myself that once the gun goes off, it's all adrenaline.
Gentilia: How has track really impacted you the most in your life? 
Renaldi: [Track has] really taught me to work for what I want. I played sports before, but I was never really that passionate about them. Track is something that I really want to work at and get better at.
Gentilia: Obviously the Plymouth-Canton Educational Park [P-CEP] is much different than your average high school campus. What do you enjoy most about being able to be on the same campus with three different high schools?
Rinaldi The fact that we have two tracks is kind of nice. And I think it's fun because I know a bunch of people on the other two teams so I get to practice with them sometimes, and especially the other hurdlers on Plymouth specifically, I got to know them pretty well. It's just fun to compete against them.
Leave a Comment
About the Contributor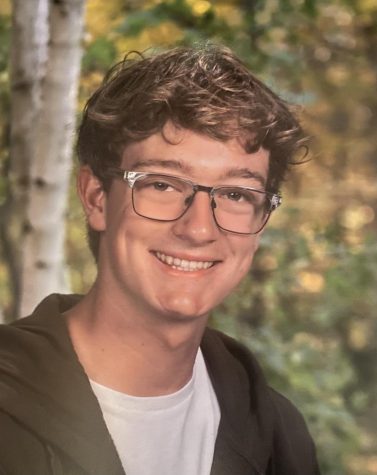 Lucas Gentilia, Business Manager / Sports Editor
Lucas Gentilia is a senior at Salem High School that loves being surrounded by friends and other energetic people. He is involved in all types of activities,...