On Friday evening, the Plymouth Wildcats beat the Canton Chiefs in surprise fashion, 35-14. In a true offensive show, the Wildcats proved to everyone, they're back.
This season has been anything but the norm for P-CEP football teams with many home games having to be played at neutral sites like Northville, John Glenn and Livonia Churchill due to the flooding and tornadoes that damaged and caused tears in the turf during the Aug. 23 and 24 storm that ripped through the Plymouth-Canton area.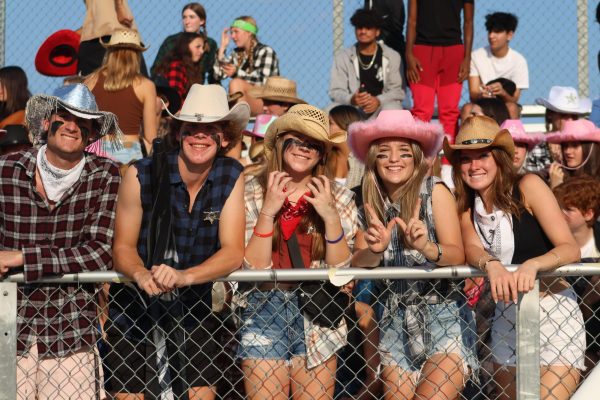 As of Sept. 25, the West Turf field is yet to be repaired. Consequently, the highly anticipated Plymouth v.s. Canton contest was played at 4:30 p.m. at the P-CEP (East) Varsity Turf/Track Stadium.
"It throws your schedule off a little bit, but you can't control it," said Plymouth Head Coach, Greg Souldorian. "I tell the kids, 'Don't worry about what we can't control.'"
The commanding Plymouth offense took Souldorian's words to heart marching down the field for an early touchdown in the first five minutes of the first quarter when junior Logan Pheiffer made a leaping catch over his head in the back corner of the endzone for a 13-yard score and an early 7-0 lead. 
Late in the first, a costly turnover on downs on Canton's own 48-yard line gave the Wildcats great field position to go up two scores.
After a few dominant runs by Senior Jaxon McCaig, the Wildcats found themselves in the endzone off of a play-action pass in the flat from senior Sam Plencner to junior Camden Short, beating out defenders for another Cats touchdown.
Friday afternoon's game was one of firsts as well when junior Jimmy Cleveland's first varsity reception came in the form of a touchdown. An off balance throw from Plencner outside the pocket found Cleveland for an easy touchdown, giving the Wildcats a comfortable lead of 21-0 going into the half.  
"It felt amazing, and we have a better team [than last year]," said Cleveland. "Coach Souldorian has a mind of his own when it comes to making plays."
Canton wasn't ready to give up coming out of the locker room. A 63-yard drive resulted in the Chief's first touchdown of the night highlighted by a hard-nosed run game fronted by senior Devon Petus. Ultimately, junior quarterback Alex Guadagni took it himself for the 5-yard touchdown.
Plymouth put the game out of reach just 40.8 seconds after the Canton touchdown when McCaig scored on a swift 74-yard run with many blockers. McCaig had a night to remember with 183 yards and a touchdown. McCaig's dominant performance on the ground proved unstoppable by the Canton defense blasting through gaps and breaking tackles every chance he had.
Souldorian's Wildcats finished out the game with 518 all-purpose yards establishing why they were picked to finish so high in the Kensington-Lakes Activities Association by many in the media.
Souldorian said he emphasized during practice for the team to stay consistent in games. Consistency on both sides of the ball and ball security was what Souldorian said he was hoping for in Friday afternoon's performance
Notable performances
Plymouth: Plencner-7/13, 143 yards passing and 38 yards rushing; Camden Short-three catches for 46 yards; McCaig 20 rushes for 183 yards.
Canton:Guadagni-8/16, 111 yards passing and 20 yards rushing; Nick Parrish-3 catches for 65 yards; Petus-24 carries for 121 yards.
Plymouth will take the field again on Sept. 29 when they travel to Novi at 7 p.m.
Canton looks to bounce back when they take home field again on Sept. 29 against Brighton at 7 p.m.