Welcoming The Perspective Staff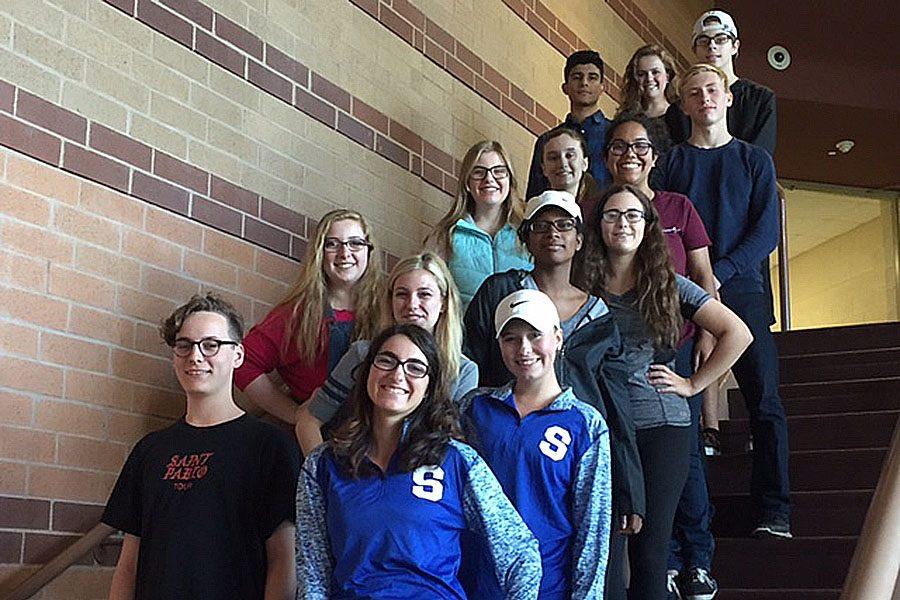 Mary Pettovello, Features Editor
October 24, 2016
Have you ever wondered who wrote the stories you read in the Plymouth-Canton Educational Park Perspective? Well they're a few of the 6,000 students at the Park. There are many editors on the Perspective staff and this is your chance to get to know them a little better.
Hannah Saad, Salem senior, is the Editor-in-Chief of the P-CEP Perspective. This is her second year writing for the newspaper. Last year, she became Co-News Editor by helping her friend. "I wanted to belong to something at the Park," said Saad. "I like the idea of being able to lead a big organization that impacts a lot of people."
Claire Heise, Salem senior, is a Managing Editor. This is her second year writing for the Perspective as well. She chose to write for the newspaper because writing is important to her as well as keeping people in touch with current events. "I want our staff to have a strong leader, a good friend and have people comfortable working for me," Heise said.
Janet Nava, Canton senior, is the Perspective's Online Editor as well as a second year staff member. She chose the online portion of the newspaper because it is her "baby." Nava also added that she likes to be in charge of her "own thing and helping people learn different skills." This year, the Perspective website, which is the same website some colleges use, was donated by Nava's parents. "It looks a lot more professional," Nava said.
Victoria Hall, Canton senior, is the Opinion Editor and last second year staff member. She joined the Perspective last year to try something new and loved it so much that she decided to return for her senior year. Hall said, "I was the Business Manager last year and I didn't take Introduction to Journalism so I watched the editors and decided that's what I wanted to do."
Jack Hanley, Plymouth senior, is the Co-Opinion Editor and a part of the Perspective's photography team. Hanley writes the satirical column about fake and humorous news at the Park. He chose to be an editor to have the power to choose what goes in the opinion section. "I want to show the school a diversity of opinions and not just extremes," said Hanley.
Haley DeLaca, Salem senior, is the Deputy Online Editor. She writes the column "Culture Shock" about the various culture clubs at P-CEP. "It interests me that we have a school newspaper," DeLaca said. "I wanted to be in another school related activity before I graduated."
Omar Abdel Baqui, Plymouth senior, is the News Editor. He joined the newspaper staff because writing is his passion and he loves to "find information and spread it to the people." He wants to make sure the news section is efficient. "I plan on being a journalist in the future." Abdel Baqui said. "An editor job now will help me gain some experience."
Emily Proctor, Salem senior, is the Co-News Editor. From writing her own book in the seventh grade, she has found a passion for writing. She hopes to have a career in journalism one day as well. "I wanted to be an editor because I would like to leave my mark on the newspaper and contribute in every way," Proctor said. She also added that she wants to help her classmates become the best journalists they can be.
Laura Westcott, Plymouth senior, is a Co-Feature Editor. She is always looking for a challenge so the newspaper is a good choice for her. She enjoys to edit the stories for grammar errors as well as the layout of the paper. Westcott said, "I always read the school newspaper so I thought it would be really cool to work on it someday."
Mary Pettovello, Canton senior, is the other Co-Feature Editor. Taking Introduction to Journalism last year encouraged her decision to write for the Perspective this year. Pettovello said, "I've always liked to write so it's awesome that I can write about important things at the Park and be a part of something as incredible as the newspaper my senior year."
Noah Haran, Salem senior, is the Sports Editor. He has an "extreme passion" for sports which gave him the job as editor of the sports section. "I took Intro last year so I thought another year of journalism would be great," Haran said. He also added that he is still deciding his major and minor in college and that this year, he is getting experience to see if this is what he wants to do in college.
Grace Grelak, Salem senior, is the Photo Editor. Her goal is to lead the photography team in the right direction with great pictures. Grelak heard about the Perspective from Saad who convinced her to take pictures this year since last year, "there were a limited number of photos."
Madison Taylor, Plymouth senior, is the Deputy Photo Editor. Writing and photography are her passions. She hopes to continue writing and taking photos in college. Taylor chose to become an editor because she "wanted to be a leader and show others different experiences."
Kevin Shimko, Plymouth senior, is the Head Copy Editor. He joined The Perspective because he enjoys writing and has always been good at it. Shimko chose to be Head Copy Editor because he likes to catch and correct errors.
Jordyn Kuchka, Salem senior, is the Business Manager for the P-CEP Perspective. She takes care of the advertisements and budget for the newspaper. Kuchka took Introduction to Journalism and decided that journalism is what she wants to do. "I like the business aspect of it, I wanted to become more involved with it and maybe do that in the future," Kuchka said.
Now you have met the staff of the Perspective. Our students work hard throughout the year to bring news to the P-CEP population. The staff hopes you enjoy The Perspective this year.