Challenge Day
Challenge Day has been a part of Plymouth-Canton Educational Park for three years and offers students a safe zone with workshops to assist teenagers through issues that they're struggling with in school and outside environments; topics include substance abuse, bullying and racism.
Salem senior Cameron Grace was a participant in this year's program. "It was a day to sit down and realize everybody's differences and that everybody has a different background story, so you really shouldn't be judging anybody," Grace said.
Salem's Challenge Day kicked off on Monday, Oct. 4 and began the three day extravaganza among all three schools. Canton's Challenge Day was Oct. 5 and Plymouth's was Oct. 6.
For Canton's Challenge Day, Principal Hal Heard said he believes that this is an important event for the Park to hold annually. "Challenge Day unifies the school and gets people to break down stereotypes that media portrays," Heard said.
Canton senior Tabitha Irby believes that Challenge Day is important for a student's mental and social health. "Challenge day helps to clear up your feelings and relax you. It makes for a better tomorrow. Not only that, but you can make new friends that you can open up to," she said.
Challenge Day leaders made sure to create a social environment that included games designed to get people to branch out from the group of people they came with, as well as the use of the American Sign Language sign for "I love you" to support other Challenge Day attendees. Many students participated in Challenge Day to take advantage of the welcoming environment filled with other open-minded individuals. Canton senior Terrill Malone was one of those students. He said, "I wanted to enjoy the inclusive environment they provide and enjoy the experience, as well as play games."
For Canton junior Venna Salih, this was her first year attending, "I don't have any fears about Challenge day, except maybe that a lot of people cry and I am wearing mascara. I hope my makeup doesn't run," she said.
Despite the giant dance party that opened Plymouth's Challenge Day, Plymouth students took the day as a true eye opener and life changing experience. Udah Washington, Plymouth junior, said, "At first I didn't want to open up about my own personal experiences, but everyone was just so welcoming and supportive it helped a lot."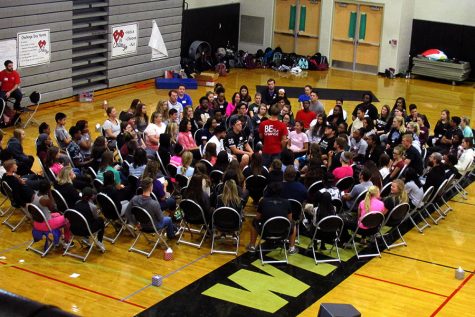 Claudia Saveski
"I like that the [Challenge Day leaders] were able to get everyone to be fairly comfortable around each other through group activities. The activities done were eye opening for many, and people could get to understand each other's troubles and hear each other's stories." said Plymouth junior Brenden Wang.
While some say Challenge Day is a day full of tears and sad stories, Plymouth sophomore Shaun Stewart said, "Challenge Day was a really good day. It made me open my eyes to how everyone has the same struggles. It's not just about crying."
Washington agrees. "I feel like so many people don't want to go Challenge Day because they don't want to cry the whole day. Which is totally not true," said Washington. "We had a lot of great moments where we all just laughed and bonded together."
"There isn't really anything I didn't like except that I had to make up a lot of stuff and studying," said Wang.