Robotics Team Heads into Competition Season
Hang on for a minute...we're trying to find some more stories you might like.
P-CEP's Lightning Robotics team kicked off their 2017 competition season with a robot unveil in the Canton DuBois Little Theater on Feb. 22. After the initial kickoff in the beginning of January, the robotics team, consisting of over 130 students and 30 adult mentors, has been working on their robot for six straight weeks. With students putting in over six hours a day for five days a week, the unveiling was an opportunity for the team to show friends, family and the community their robot Valkyrie, the product of all of their hard work over the past weeks.
Plymouth senior Tyler Harris expressed his excitement about the team's accomplishment. "I am thrilled at the progress we have made on Valkyrie these past six weeks," said Harris. "I am proud of the fact that we were able to make this robot in such a short period of time, and at the end of the six weeks we had met all of our goals we set for ourselves."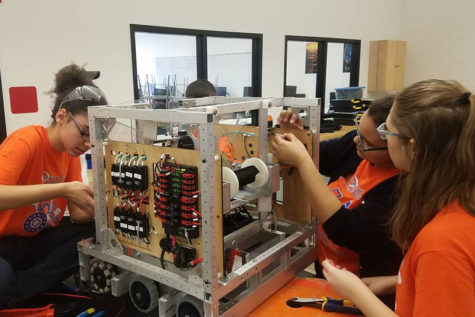 Valkyrie's abilities include collecting and delivering gears and climbing a rope, which were two out of the three main tasks needed for this year's FIRST (For Inspiration and Recognition of Science and Technology) Robotics Competition entitled "Steamworks."
Students on the team expressed pride in their robot and its capabilities. "I'm pleased that, as a team, we decided to specialize our robot this year to only two of the three main game tasks, so we accomplished both tasks very well instead of attempting all three at a mediocre level," said Kelsey Taylor, Plymouth senior. "I'm also excited that we've successfully accomplished the rope climb, which we've never attempted before this year."
Other accomplishments so far this season included a more efficient attendance system and better communication among subgroups. Nik Stojcevich, Canton junior and leader of the programming subgroup, said, "For programming specifically, we successfully switched programming languages over to Java which helped us tremendously."
The Lightning Robotics Unveil also highlighted other aspects of the team outside of their competition robot. They described various events they've been involved with including a Girl Scout Robotics Exploration day, a number of demonstrations at different fairs and community events, and other community service opportunities.
Major sponsors of the team, like Bosh and Jabil, were recognized for their contributions and had representatives speak about their involvement with Lightning Robotics.
After the unveiling, Valkyrie had to be bagged, tied up and left untouched until Lightning Robotics' went to their first competition at Ann Arbor Pioneer High School March 10. One of the FIRST Robotics Competition rules is that robots cannot be modified after the build season ends or between competitions. When the team arrives at the competition site, an inspector will check for any tampering, and then the team can use the couple of hours before actually competing to make any necessary changes. While not being able to work on the robot has caused problems in past years, this year the robotics team feels confident about the robot they've designed.
"Last year we struggled with unreliability," said Stojcevich, "but this year it looks like we have a really good robot and are very reliable. It will be interesting to see how we do at our first competition in Ann Arbor, but if it goes anything like our testing, then we will do very well."
With 18 years of experience being the lead mentor for the school's robotics team, even Canton STEM teacher Jay Obsniuk has a positive view on this season saying, "I think we'll do pretty good this year. This is the first time in a long time where we've actually had the robot complete by the end of our build season, usually we go to the competition and we have to finish it up."
This year's competition involves six robots per match. The Lightning Robotics team will have to work alongside two other randomly chosen teams from other schools to try and accumulate more points and beat the other team of three robots.
"I am very excited about this year's game," said Allison Hurley, Canton senior and president of the team. "I think it is going to be super fun to watch, and we are going to get the chance to look at some pretty cool robots."
After Pioneer High School, the team will be travelling to Sault Ste. Marie to attend their second competition at Lake Superior State University. "We try to do one travel event each year," said Obsniuk. "It's nice to go to these because you meet a lot of different teams, and you find out what they're doing. Then you find out how their school is run a lot different than ours, too. It's amazing."
Obsniuk says that compared to other teams that will be attending the competition at Lake Superior State University, Lightning Robotics will be one of the more experienced teams. "Out of the 40 teams, 30 are either first year or rookie teams, so they're not gonna have the experience, so there's gonna be a lot that we're gonna need to do as a veteran team that they're gonna be relying on us to do so that kind of worries me," he said.
Obsniuk says he and the team are planning on building a ball shooter for Valkyrie between their first and second competition, so they can add it onto their robot once they get to the competition site. This will ensure that Valkyrie can accomplish all of the game tasks if needed.
If the robotics team accumulates enough points from both of their competitions to score in the top 100 teams out of the 470 teams in Michigan, they will advance to the states competition in Saginaw Valley. Nine times in the past ten years, the team scored in the top one-third of the teams competing in states and moved onto the world championships. This year, members of Lighting Robotics once again have set their sights on travelling to St. Louis, Mo. to attend the World Championship Competition.

About the Writer
Megan Pham, Editor-in-Chief
I'm a senior at Canton High School and this is my second year as a member of The Perspective. I really like reading, I run on the cross country and track...