District reviews LGBT policies, books in elementary schools and new propositions for gender neutral facilities
The Sexual Education Advisory Committee at Plymouth Canton Community Schools recently gave its members a document detailing some of the policies that they got from the state, which could be implemented at P-CCS in the next few years. The policies were joined by a proposed effort to move books that discuss transgenderism, homosexuality, and the like into the elementary school libraries. Already in Bird Elementary there are books that talked about these issues, such as, "And Tango Makes Three," which is about gay penguins adopting a baby girl penguin. The book is banned in some school districts.
Bethany Gatto, the librarian at Bird, said, "As you know, in our building there are a limited number of titles that directly address concepts like gender expression. This is in part because in the past there were not many titles to choose from that were for an elementary audience. That trend has begun to change, especially in the last couple of years as the topic has become more a part of the public consciousness and conversation. It is the duty of librarians as keepers, collectors and catalogers of information to provide resources relevant and interesting to our patrons."
The proposed policies at P-CCS, according to the State Board of Education Statement and Guidance on Safe and Supportive Learning Environments for Lesbian, Gay, Bisexual, Transgender, and Questioning(LGBTQ) Students, are essentially gender neutral bathrooms, locker rooms, and showers, more books in the school libraries, and pronouns/names. On page 5 it states, "The OCR has emphasized, 'a school's Title IX obligation to ensure nondiscrimination on the basis of sex requires schools to provide transgender students equal access to educational programs and activities even in circumstances in which other students, parents, or community members raise objections or concerns.'" It also says, "[C]urrent interpretation of federal civil rights laws protects the right of transgender students to use the bathroom of their gender identity if they so choose."
Students at P-CEP have had different reactions to this. Liberty eighth grader Sophia Edwards, who goes to German class in Salem in the mornings, said of LGBTQ2A+ subjects, "I definitely agree with that being taught. I believe that because it's something that people should learn to accept. There are a lot of people who don't understand it." Then in response to the gender neutralizing of school bathrooms and showers, she said, "I think there should be some gender neutral, but not all of it."
She is joined in her disagreement with the proposed bathroom policy by Salem Junior Jacob Jakovljeski, who said, "There is always a risk of someone pretending to be the opposite gender to go in the opposite bathroom."
He is backed up by the Aalanah Ozdinec (Salem junior), who said, "I think it's mostly about safety and being comfortable."
Local parents in the area are also divided on this proposition. Brian Fair, whose kids go to PCA (Plymouth Christian Academy), said, "No, I do not feel comfortable with that. I think it inappropriate to suggest that subjecting underage girls to environments or situations where young men are removing articles of their clothing is beneficial in any way."
A Perspective survey from a few years ago found that the majority of the students at P-CEP were against the ideas proposed by the state to PCCS. Students were still divided on this and many people are in the middle. Salem Junior Sola Mewha said that she is on the fence with the issue. She said, "I think that everyone should feel comfortable and safe at school."
About the Writer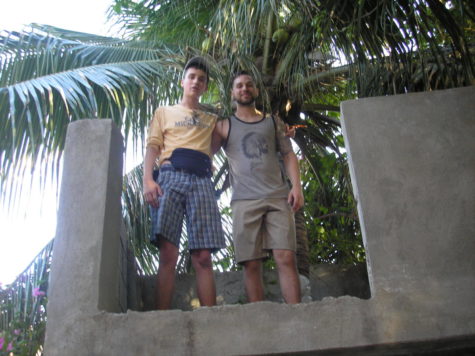 Sebastien Ostertag, Staff Writer
Sebastien is an 18 year old senior who needs God and the love of Jesus Christ. He has struggled with sin and doesn't deserve the love of God.  John 3...