P-CEP Boys Bowling
The Salem Rocks varsity bowling team is currently sitting at the top of the division with a 9-1 record, only losing to their rival Canton. The squad is led by junior captain Noah Samuels who is currently averaging 213.17 in match play.
Samuels said, "I think our season is going pretty well so far. We're 9-1 and we've bowled pretty well overall in the tournaments we've had this year." Samuels also mentioned, "One of our main goals is to come first in our division and make it to States as a team and hopefully have lots of us to make it for individuals."
The Rocks quest to win the division continues Monday, Feb. 4 in their match against Northville at Super Bowl Lanes. On the JV level, the Rocks are not faring quite as well with a record of 6-4. The team is led by freshman Zander Craft, who is currently averaging a 171.18 in match play.
Preston Kavanaugh, Canton junior captain said, "We started off a little rough but we were able to win our first two games. We then had a  loss to Plymouth which hurt our confidence as a whole. We bounced back winning a majority of our games after, even beating our rival Salem. I feel confident that we will continue to win and be a contender for the division and even qualify for a spot in states."
Kavanaugh has been staring for the Canton Chiefs varsity team all year including a huge performance in a win over Park rival Plymouth, in which he bowled 255 and 267. Kavanaugh is currently averaging a 209 while leading the Chiefs to a 8-2 record. Kavanaugh is confident in his team and believes this is their year to make it to states.
    The Chiefs JV team is also 8-2 with both of their loses coming to Plymouth. While the Chiefs haven't won any tournaments this season they look to keep up their strong showings in match play.
The Plymouth Varsity Boys are anchored by senior co-captain Alan Brown. Brown said about his team's season, "Our season has gone pretty well so far while all the matches have not gone the way we would have liked them to we are still 6-4 overall and have also won two tournaments which is pretty good."
Brown also mentioned that his goals for the season are to return to States as an individual and to make it as a team. The boys look to keep winning tournaments as they are two for four so far on the season.
The Plymouth JV boys are 9-1 behind junior Darren Polka, while also winning two of the three tournaments they have competed in. Polka is currently averaging a 179 in match play and says he believes the team has a shot at winning States this year.
While the teams still have part of the season to go, they all have winning records. The teams look to build off their strong seasons and make a push to get to States and win it.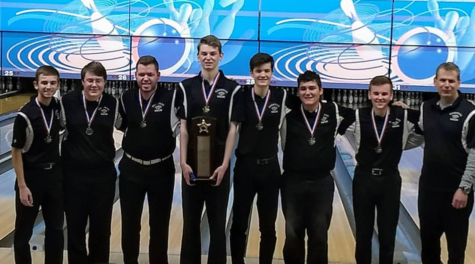 All records and averages according to mhsbowling.com as of Jan. 19, 2019
Leave a Comment
About the Contributor
Brett Caldwell, Entertainment Editor
Brett Caldwell is a senior at Plymouth and the Entertainment Editor and an Opinion Writer for "The Perspective." As the entertainment editor he is...