Thank U, Next Album Please
Ariana Grande dropped her fifth studio album,"Thank U, Next," on Feb. 8, 2019. With only a six month break between this album release and her previous album "Sweetener," fans were very excited to see more new music out.
The entire theme of this album is finding who you are after going through a great deal of hurt. For Ariana, she took from her experiences of her previous boyfriend Mac Miller dying and also her breakup with her former fiancé Pete Davidson. The album consists of 12 songs and is 41 minutes long. The album starts off with "imagine," not quite a ballad, but also not an incredibly upbeat song either. The album ends with "break up with your girlfriend, i'm bored." The order of songs takes you through Grande's relationship challenges she has faced and how she has overcome them and how she is still working to overcome them.
My personal favorite song on the album is "fake smile," which is track number five. The song starts with an intro from Wendy Rene's 1964 song "After Laughter," which I think adds a nice touch. The lyrics of the pre-chorus are what spoke to me the most. "I can't fake another smile, I can't fake like I'm alright," and "I won't say I'm feeling fine, after what I been through I can't lie," I think are very powerful. For me, it's saying that you refuse to go on in life pretending like everything's okay when in fact it is not. It says that when you've been through a lot, you can't just shrug it off like nothing happened. That's something that I can really relate to in my personal life and it is why I like it a lot.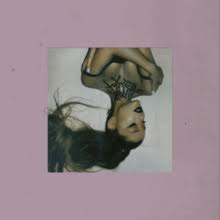 A song that I think gets a lot of hate from this album is "7 rings," but it's actually another one of my favorites. While the lyrics may not be the most well written on the album, they still hold some value of meaning. The beat of the song is good and it's definitely a "hype song." Grande took melodies from "My Favorite Things," sung by Julie Andrews in "The Sound of Music" as a base for the verses and added her own rap at the end of the song. All together, I think this song is a good one and very fun to listen to.
My least favorite song on the album would be "in my head." The song is about wanting the perfect relationship and picturing it, but in reality it's just something that isn't going to work out. I just don't find the melody very catchy and the lyrics are not my favorite.
Overall, I would give "Thank U, Next" a 7 out of 10 rating. I think Grande did a good job on the majority of her songs, lyric and beat wise, and I can't wait to see what she comes up with next.
View Comments(1)
About the Contributor
Lilli Keehn, Copy Editor
Senior Lilli Keehn is a first year reporter for The Perspective. Outside of writing and reporting, she enjoys singing, theatre, painting, attending her...