P-CCS school reopening plan gains mixed responses from community, school board members
Raising questions for the students and parents of Plymouth-Canton Community Schools, the P-CCS Board of Education trustees voiced their concerns for the safety and logistics of the P-CCS Reentry Plan for the 2020-2021 school year, created to address the COVID-19 pandemic, during a livestream meeting between the Board of Education and the administration. 
The regular meeting, held on Tuesday, July 28 and broadcast on P-CCS's YouTube channel, lasted six hours. 
Board trustees spent the agenda's discussion time asking questions for clarification regarding the proposed plan. 
The staff and families of the P-CCS were introduced to the plan which provides three options for the students to attend school in the fall by an email sent on July 25 by Monica Merritt, superintendent of schools. 
The P-CCS school reentry plan is based upon Governor Gretchen Whitmer's Michigan Safe Schools plan released on June 30 and the Michigan Safe Start Plan announced to the public on May 7. 
The Safe Start plan to reopen the economy has six phases based on the number of COVID-19 cases in the state. Phase 1 has an uncontrolled increase of cases; Phase 2 has a persistent spread of cases; Phase 3 indicates the flattening of cases; Phase 4 displays the decline of cases; Phase 5 represents the ability for the quick containment of outbreaks; Phase 6 refers to post-pandemic conditions with access to effective medical treatment.
The administration's email presented three choices. With option A, as long as the state of Michigan is in Phase 4, families would be able to choose between five-day in-person or virtual learning. If the state reenters to Phase 3, all students would switch to virtual learning. If the state moves to Phase 5, all students would physically go to school. With option A, P-CCS curriculum would be used. 
Option B calls for online learning the entire school year using the P-CCS curriculum. Option C is a hybrid model composed of two days of in-person learning and three days of virtual learning for each student. 
A separate year-long online program will also be offered through the Michigan Virtual Academy, and will be taught by P-CCS teachers using the P-CCS curriculum for grades K-8 and Michigan Virtual Academy curriculum for grades 9-12. 
P-CCS School Board Treasurer Patrick Kehoe questioned the use of Michigan's established phases to determine student safety in district schools.
"I'm really, really worried about our continued bantering around Phase 4 when we have the numbers that don't align from a risk factor with where we're at. Risks should be the basis of what we're using, not just what the economic metric is…How are we going to manage the risk to make sure that it's safe for our students to go back?"  
Kehoe supported his comment with data from the Michigan Safe Start Map website. 
"We have a situation right now where the state is at a 36.3 for its risk factor. That is a Stage 3 level for the state," said Kehoe. "If we look at our region, the Detroit region, we're at  41.6, which is solidly at the Stage 2 level which is a high risk categorization. And if we further drill into Wayne County, we're 53.8."
The Michigan Safe Schools plan does not allow for in-person learning at Phase 2 or 3. 
As of June 1, Michigan entered Phase 4, which allows for the reopening of schools. 
Kehoe raised concerns about the safety of students in classrooms with the current data.
"These numbers are unacceptable for us to be going back to school without additional data that says that there are localized infections and not widespread community growth of the infection."
Merritt said she plans to seek more data. "We will hopefully see if we can get representatives from Wayne County here at our next meeting to see if they can lift up our data in particular for Plymouth, Canton, Salem, Northville, the townships that we serve to see how they align within that overall region."
Kate Borninski, school board trustee, raised questions about the protocol for handling a positive case of the virus. 
"I think that parents will want to know this, and teachers, but, if you have a case of COVID-19 in a classroom, what happens to that class? Does the whole class get quarantined?" asked Borninski. "Do only the students that we know came into, you know within six feet of this person with COVID-19, do they get quarantined?" 
County guidelines have not yet been shared with the district, said Merritt.
"We are also obligated to work with the state, Wayne County Health Department," Merritt said. "And they have committed to, they have a binder for the county to follow, and they will have the specific guidelines…We are awaiting that information, as soon as we get that information…we will be able to share with you as a board."
During the citizen's comments segment of the livestreamed meeting, 76 community members  raised questions in emails read aloud by the school board trustees.
An anonymous commenter said, "We feel that students learn best in a face-to-face environment. How can we accomplish this for the 2020-2021 school year?" 
Another comment regarding the in-person option came from Kathy Stark, Canton High School social studies teacher: "There are too many uncontrollable variables, therefore, I strongly encourage online classes for the first semester."
Other concerns ranged from the mental health of students, accommodations for special education students, and the need for working parents to have child care for their children to the dangers of disinfectants used with Clorox 360 machines, the efficiency and effectiveness of cleaning routines, and the difficulties with using virtual learning platforms. 
The P-CCS administration recommended to the Board of Education that the combination model, composed of two days of in-person learning and three days of virtual learning for each student, not be considered due to "too many instructional and logistical challenges, and not enough choice for our families," according to the P-CCS letter sent out on July 25.
Kehoe said that the hybrid option should not be dismissed. "I know that it'll be harder, but it would promote social distancing and allow us to minimize the number of students that were there and therefore potentially some of the risk."
In a citizen's comment, Laura Luchinsky asked about social distancing and said," I have to say I am very disappointed that the hybrid option was taken out. As a parent of a student of the Park, I believe children need time with their peers and face time with their teachers."
Due to the number of unanswered questions, the school board has scheduled a special meeting for Tuesday, August 4 at 5 p.m. Merritt said that the administration is working hard to come up with the best plan for families. 
"Once again, we have to continue to emphasize we are all in this together," said the superintendent. "If we are in an environment of returning to school, it's education. It's working together. It's checking balances to make sure this is taking place."
A final decision regarding school options for families is anticipated to be determined no later than August 11 in order to be put into action by August 15.
Leave a Comment
About the Writer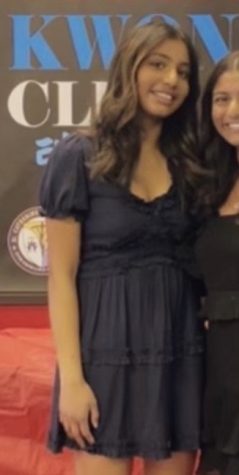 Sanjana Madapa, Social Media Editor
Sanjana Madapa is an International Baccalaureate senior at Salem High School. She is a member of the varsity lacrosse team and the captain of the Plymouth-Canton...