The Class of 2021 appears to be pandemic's latest fallout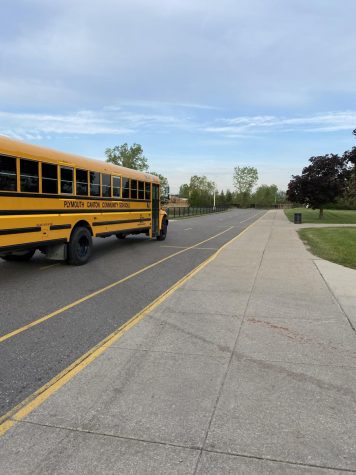 7:10 a.m. Monday morning. The sun barely peeks through the window. The house is silent, the only one awake is 17-year-old Joana Gllafce. This Plymouth senior is about to start her day of online school. Clicking on the join button, hearing the ping of the Zoom meeting starting, Joana then goes back to bed to only half listen to the teacher talking. 
For many seniors this schedule has become a daily routine. 
As the 2020-2021 school year comes to a close, the Plymouth-Canton seniors are preparing to depart for college in the fall, but with all the virtual schooling these students have endured, some may question if that type of learning was a detriment or a help in preparing these kids for college life.
Gllafce, a soon-to-be Plymouth graduate of the class of 2021 who plans on attending Schoolcraft College next year to major in business, said, "Well, thanks to COVID, I'm not really sure I'm ready for college." 
During the online portion of the schooling, students much like Gllafce have had a hard time completing assignments. Gllafce said, " I feel like in person the teacher can make me do the work, and I mean. when we were virtual, you could actually cheat on quizzes."
However in Gllace's opinion not everything about virtual was a set-back. "Because of virtual learning, now we get so much homework, and in college we are obviously gonna have a lot more homework than now. So it's like a closer step to college," said Gllafce.
Canton High School "Living on Your Own" teacher Emily Moczulski agreed that virtual schooling has had upsides. "I think the virtual setting is a lot like college. even if you take an in-person class. So there's a lot of again, taking responsibility for the assignments and the homework and a lot of working on your own time. And that's a lot of what college classes are like, so I think it could be helpful for those going into college."
Although Moczulski thought that the virtual setting may have benefited seniors by giving them a glimpse of college life; she also thought it was a wake up call for the students. 
"I think in the high school setting, it really hindered a lot, because it forced everyone to be thrown into this virtual setting where everyone can attest that that's not made for everybody," Moczulski said.
For many, virtual schooling wasn't the best for their academics, but Plymouth senior and varsity football player Daniel Neher, who plans on attending Schoolcraft College next year to major in criminology, thinks that virtual was a good thing. "Actually, my grades have gone up. I'm able to go at my own pace and work more on the assignments, and I feel a lot more comfortable working by myself at home. And it's actually helped me a lot," said Neher.
Not only has school been easier for Neher, but he and many other students have had more time to work on their own interests. "I've kind of had more time to research the stuff I'm interested in being at home because I can usually finish my work at a quicker pace, and I don't have to wait, or I'm not in school for hours on end. So I've had a lot more time to look at things, like where I want to go for college, and who has the best criminal justice thing, and just look into that kind of stuff and learn about everything I'm interested in," said Neher.
As much as this change has helped Neher, it has also hurt some other parts of his life, mostly the social aspect. "I don't talk to my friends as much as I used to. I don't see them every day," said Neher. 
Plymouth High School counselor Kelly Fuzetti has acknowledged that this loss of social time has affected many seniors. "The social aspect is really hurting. And, you know, I've seen a lot of seniors that are really trying to stay motivated," said Fuzetti.
Motivation has also been impacted. "I think the virtual setting, while it does have its advantages, I just think that the in-person kind of communication and bond is really important, and it's kind of missing," said Fuzetti. 
Even though a lot has been lost, Fuzetti doesn't believe that it is all negative. In fact the class of 2021 has developed some skills that previous classes may not have had the opportunity to progress.  "This class has skills that definitely previous classes have not, you know. In terms of working with teachers when things are tough, and when the communication is not there," said Fuzetti.
Comparatively, this graduating senior class is now better prepared for a change in how college classes could be taught moving forward. "Some colleges are moving to more virtual classes anyway. So that may be a breeze for you guys," said Fuzetti.
Much like many, Fuzetti has a split opinion about the virtual setting. Leaving the seniors with some advice, Fuzetti said, "Persistence, you know, not giving up when things get tough, because it's so easy. It's so overwhelming oftentimes, but I think you just got to see the big picture and realize, Oh, you know what you're going through is temporary."
Leave a Comment