How a local rescue puts a dent in the U.S. puppy problem
The Humane Society of Huron Valley Love Train helps many young animals find new homes around southeast Michigan.
In the United States, there are millions of dogs that enter shelters and millions more that are on the streets. National Public Radio reported that, "In Houston, Texas, alone, there are more than one million stray dogs."
 Many of these dogs are put in kill shelters where they are euthanized if they are not adopted soon enough. Jessie Hitt, Humane Education Manager at the no-kill Humane Society of Huron Valley, believes adoption to be one of the best ways to help this situation. Hitt said, "Adopting instead of shopping quite literally saves lives. Unfortunately, every year over a million homeless cats and dogs are euthanized in shelters across the United States."
The HSHV Love Train brings dogs from kill shelters in the southern United States up to Michigan for adoption. "Our regular trips for dogs and puppies take us to a few main sources," said Hitt., "We regularly pick up dogs from HARTT ( Hardin Animal Relocation and Transition Team) in Clifton, Tenn.; Hardin County Animal Services in Savannah, Tenn.; Webster County Animal Care and Control in Dixon, Ken. and Hopkins County Humane Society in Madisonville, Ken."
The Love Train has helped hundreds of animals and people make loving connections. As a three time adopter from the Love Train, Teri Neely has loved saving her puppies and is saddened by the situation these dogs came from. "We have three puppies from the Love Train. Sunny is two years old, Pluto is one year old, and Hector is 11 weeks," said Neely. "It's a great experience adopting from the Love Train because you know that these animals otherwise would have gone to a kill shelter down in Tennessee."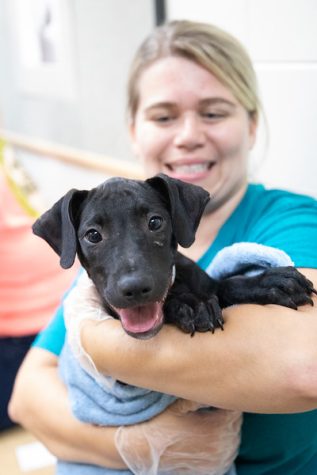 The HSHV makes it simple for adopters to meet dogs and form new family connections. Kaile Myers, one of the many adopters at the HSHV praised the Love Train for how easy it is to save a dog. "The adoption process was literally painless," said adopter Kaile Myers, "so much so that in less than 30 minutes we were walking out with our puppy." 
This process of adoption is important and relies on those in our community. Anna Chrisman, media manager at Michigan Humane, supports the adoption process and preaches responsible adoption. "Adoption provides a second chance to an animal in need of a home. The best environment for a pet is a home where they are loved and cared for, and we can't help pets find those homes without folks willing to adopt them."
One problem facing adoption centers is the amount of unregulated puppy mills and breeders. These breeders fill pet stores with popular breeds that were raised at puppy mills which drown out the animals in shelters. Hitt said, "These are adoptable animals that miss out on loving families when someone chooses to buy their pet instead."
Leave a Comment
About the Contributor
William Pryce, Editor
Senior Will Pryce is just beginning at The Perspective. He spends most of his free time playing soccer around the Midwest. He has played travel soccer...