Veteran, teacher, husband, father and Star Wars fan: Remembering Dale Palmer
Dale Palmer, loved by many within the Plymouth-Canton Educational Park and the greater community as a whole, passed away on May 21, 2022, after receiving a diagnosis of stage 4 prostate cancer in May 2020. Palmer joined the United States military in 1988, before becoming a teacher in 2004. A self-described Star Wars fan, Palmer taught English at Plymouth High School, before transitioning to teaching in the Virtual Academy in March 2020.
The Perspective staff wishes the best to Norma, Dale's wife, and Sofia, his daughter and the friends and family of Dale Palmer, and wish to offer our deepest condolences to anyone struggling with his passing.
————————————————————-
In December 2021, Palmer granted an interview to Tyler Klimek, a guest writer for The Perspective. Klimek's interview with Dale Palmer focused on the idea of requiring students to stand for and recite the morning pledge of allegiance.
Klimek: "Do you encourage students to stand for the pledge? Why or why not?"
Palmer: "I do not encourage, nor do I discourage, students standing for the pledge. I served in our nation's armed forces to defend my fellow Americans' freedoms. I do not support the notion that students must be required to stand and recite the pledge. I support anyone's freedom to silently protest by not standing up for the Pledge of Allegiance or the national anthem. Protest is patriotic."
Klimek: "How do you feel about the students who don't stand for the pledge?"
Palmer: "When students do not stand for the pledge, I always wonder, 'Is this student making a peaceful protest? Or is this person not standing because he or she does not feel like it?' I support both. Students are not required to stand. I would feel anger if students were required to stand, because that is not patriotism. It's indoctrination."
Klimek: "As a veteran, what does standing for the pledge mean to you?"
Palmer: "As a veteran, I choose to stand for the pledge, even though I believe our nation has not lived up to the promises the pledge proposes. I stand to remind myself of the promises and meaning of the Pledge of Allegiance. As a teacher and veteran, I am ethically bound to do my part to live up to our country's promises to its citizenry, because, frankly, we have failed miserably in creating a land of unity and justice."
Klimek: "Do you think standing for the pledge is something that we should all do out of respect?"
Palmer: "Refusal to stand for the pledge is not unpatriotic or disrespectful. Sitting during the pledge does not mean that person "hates America" or disrespects we veterans or our country's founders. Also, what if that person does hate America, or does not respect veterans? The First Amendment to the Constitution says that Americans have the right to hold their own opinions."
Klimek: "Why do you think students don't stand for the pledge?"
Palmer: "When I taught at Plymouth, I always told students they were not required to stand for the pledge, and that I wouldn't judge students based on whether they stood or not. Some students may sit during the pledge or kneel during the National Anthem to peacefully convey protest against racism in our country. I respect that. Others may feel like reciting the pledge is the state trying to indoctrinate them into an unthinking allegiance to a piece of cloth. Others might be tired at 7:15 in the morning, and just don't feel like it. I respect all of them, whether they stand or sit. That's the core democratic value our country purports to hold."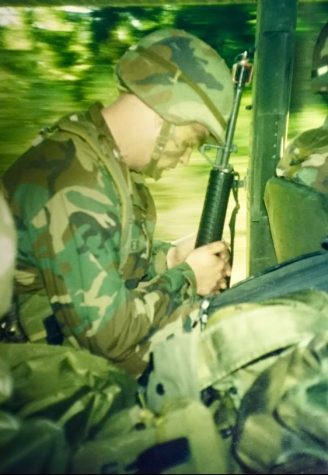 Leave a Comment