Rocks roll to victory
Salem Rocks Boys Varsity Hockey dismantled the Canton Chiefs Friday, Dec. 2, with a score of 8-1 at a packed Arctic Edge Ice Arena helping capture Head Coach Jake Sealy's first career win with the Rocks. 
The Rock's offense simply overpowered Canton with six different players scoring a total of eight goals. Salem's quick pace and speed along with well-placed shots was the difference maker in the game.
"Canton had a very good team last year, but I think Salem's right back in the thick of things," said Salem Rocks Athletic Director Tim Baechler. "They think they're ready [for the season]."
Baechler's prediction proved to be flawless. 
The Rocks had a very sharp first few minutes, opening with a powerful goal from senior forward Colin Kelley (4), a skillful stuffed-in goal from junior forward, Sam Steffes (1), and a third from Aidan Ross (2), senior forward, all within the first six minutes and 30 seconds of Friday's game. Later in the period, a messy fight broke out with punches thrown between the two rivals, and Chief junior defenseman Cam Civiero was penalized for the brawl. Sealy said he expected hard work and effort on the ice from his boys, and they all delivered.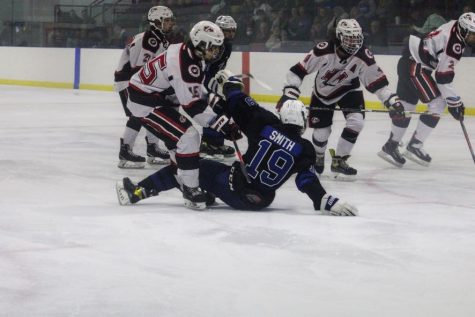 The second period started off with an intoxicating surge of shot after shot by the Chief's offense, but senior goalkeeper Nathan Kuechler wasn't letting anything past. Even with a good attacking core from the Chiefs, Kuechler had a great night with 15 saves on 16 shots on goal.
The Rocks were able to keep their electric front line going with sophomore forward Karsen Patel (2) and junior forward Ben Gramer (1) scoring two more goals.
"[The first goal] feels pretty good, you know?" said Gramer. "The energy is there at a Park rivalry game, and this is just the start of the season."
With just seven minutes and 30 seconds left in the second period, senior forward and starting captain Mathew Thibodeau (1) scored the Chief's only goal of the game. 
The third period was more of the same from the Rocks. Early in the period, junior forward Sam Steffes got his second goal of the night (2), bringing the score up to 6-1 as Steffes and his teammates rejoiced behind the net. The Rocks scored two last goals to round out their strong victory.
After the final buzzer rang, the Rocks celebrated and friends from both teams stood together while many of their parents took pictures from outside the glass.
Salem students came showing their support for the team, successfully predicting a blowout win.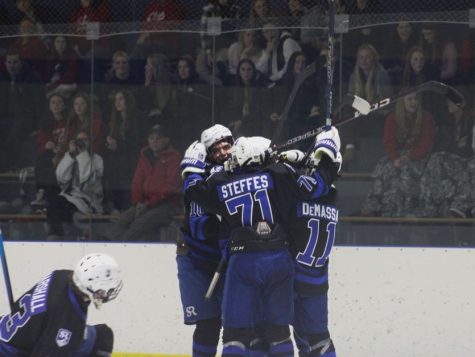 Varsity Girls Tennis player Abby Kirkpatrick, Salem junior, anticipated a 9-2 Rocks win while in support of Salem junior defenseman, Alex Telepo. Varsity Football players Trent Graham and Owen Anderson, both juniors, attended to support skaters on both sides of the ice, Canton junior Cam Civiero and Salem junior Ben Gramer. Both were hopeful with their final score predictions of 10-0 Salem. Overall, a large number of Canton, Salem and even Plymouth students came out to see this Park rivalry game. 
"We knew what we had to do to be successful as a hockey team," said Sealy. "And everybody to their credit took that in and came out and did exactly what we asked them to."         
Salem will look to keep their red-hot offense going with their next game on Dec. 10 at 4:30 p.m. against Warren De La Salle Collegiate High School at Eddie Edgar Ice Arena in Livonia, whereas Canton will look to snap a four-game losing streak at home against Hartland on Dec. 9 at 6:00 p.m. at Arctic Edge Ice Arena.
Correction: a previous version of this article misstated a quote by Salem Rocks Athletic Director Tim Baechler. The previous iteration stated that he believed that a previous Canton high school coach had a good team last year, while in actuality he stated that the school itself, not an individual, did. The Perspective apologizes for this error.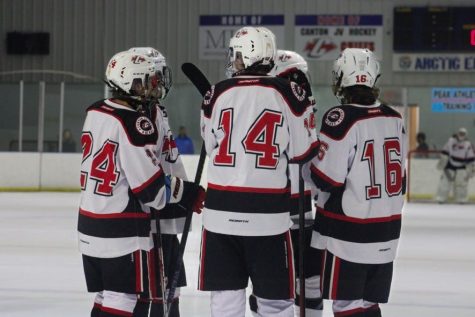 Leave a Comment
About the Contributor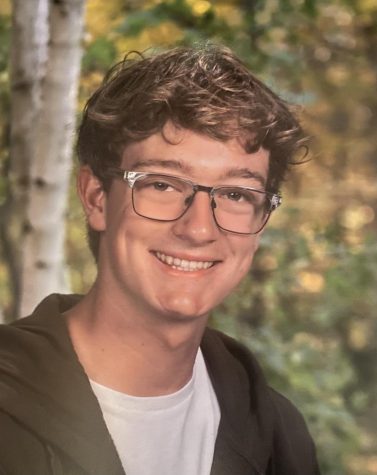 Lucas Gentilia, Sports Editor
Lucas Gentilia is a junior at Salem High School that loves being surrounded by friends and other energetic people. He is involved in all types of activities,...