The Park Players present 'A Christmas Carol'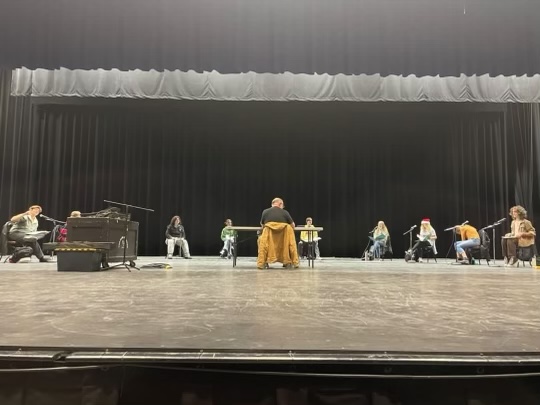 The P-CEP Park Players are once again putting out a holiday must-see, or, in this case, a  must-hear, performance. "A Christmas Carol," a Park Players radio rendition of the classic play opening on Thursday, Dec. 15, will for many be the perfect way to start the holiday season.
In addition to Dec. 15 at 8:00 p.m., the show will run on Dec. 17 at 2:00 p.m., Dec. 22 at 8:00 p.m. and Dec. 24 at 2:00 p.m. and can be accessed through the 88.1 The Park radio station or can be listened to on the station's website.  
Many familiar faces are back once again from previous Park Players performances, including Alex Hawkins, Plymouth junior; Christian Flores, Canton junior; Sammy Gharbia, Canton sophomore and Mikah Quimby, Salem junior.
The play consists of eleven students performing multiple roles as they guide the audience through the story of the money-hungry Ebenezer Scrooge and his developing love for the Christmas holiday. 
As Scrooge is visited by his former partner Jacob Marley, the Ghosts of Christmas Past, Christmas Present and Christmas Future, listeners follow along as his attitude towards Christmas changes along with his values, leaving the listeners with the moral that family and love is greater than wealth.  
 "If people look at Christmas Carol, they say it's a story about Christmas, and it really isn't," said Park-Players co-director and Gloria Logan auditorium manager Paul Bird. "It uses Christmas as the catalyst, but it's really about being a decent human being and how you treat and interact with those around you."
In the previous years live performances were a norm throughout the school year but due to the 2020 pandemic forcing the theater to slow down live production, the company turned to radio plays as a way of performing for an audience.  
"We weren't allowed to have a live audience [during the COVID-19 pandemic] and we were limited to the number of students we could have in any space at any time," said Bird. "We asked the radio station if they would be willing to partner with us to do radio plays, and they were more than happy to do that." 
Radio plays are seen both as great outreach for the theater, and as a learning opportunity for student participants to expand their horizons beyond traditional theater. 
"It's kind of cool because we are doing a different version," said Quimby. "There's some different characters, and it is a radio version of ["A Christmas Carol"].
Behind the scenes, the group has been anticipating the release, preparing and recording weeks in advance. 
"Rehearsals for this have really been about paying attention to the people you're acting with and listening to how they're approaching their role," said Bird. "Each time we do it, it's a little bit different."
Some of the actors have a personal connection with the performance, which heightens the experience for them. 
"I did ["A Christmas Carol"] five times, so this show is a really big part of my life," said Hawkins. "I grew up every holiday season with it."
It can be fun for people to see new interpretations of the classical play and the way actors take on their roles, creating fresh voices for the different characters they portray.
"It feels really great because it's a show that has been told so many times in so many different ways by so many different people," said Hawkins. "I think that goes to show that it's just a classic show that needs to be remembered, and that we are all capable of changing."
If interested in listening to the production, which Quimby recommends with a side of milk and cookies, feel free to listen and learn about the importance of love all the way up until the last showing on Christmas Eve. 
 "What really matters is what's in our heart and what we do for other people," said Hawkins.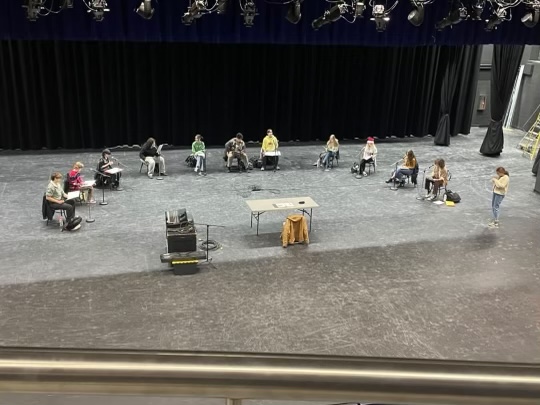 Leave a Comment
About the Writers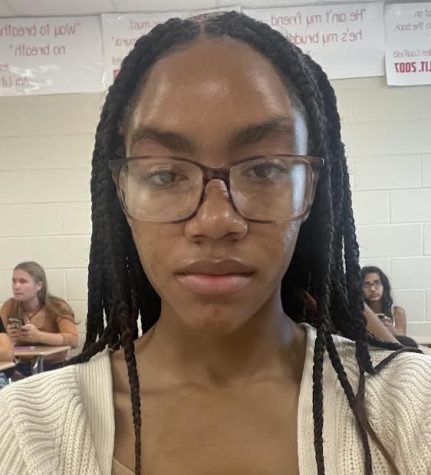 Sloan Shackelford, Social Media Co-Manager
Sloan Shackelford is a Plymouth junior with an uncontrollable passion for writing. Starting in second grade, she began writing short fictional stories...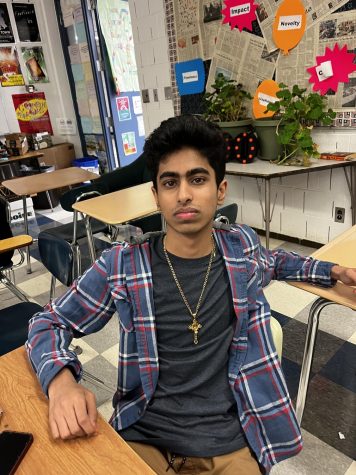 Jash Sarveshkumar, Community Correspondent
Jash Sarveshkumar is a Salem junior who joined The Perspective in fall of 2022. He runs track in the spring, he enjoys listening to music and he enjoys...