'Treppenwitz:' Improv Club prepares end-of-the-year show
"Treppenwitz," which translates to "staircase wit" in German, also happens to be the name of Improv Club's fourth rendition of their annual end-of-the-year show.
This year's show will be presented in the Canton Allen DuBois Little Theater on Wednesday, May 24. Admission is free. Club performers have spent hours rehearsing their improv skills, and will display them to the public. 
The show consists of many improvised games and acts performed by various actors, who alternate between games. One such game is called "Onion," where one actor comes out to build up the "onion," with the scene changing each time a new person comes in. In the new scene there are some new actors who will mix with a few of the initial actors on the stage, eventually creating a situation that leaves the initial actors in an entirely different scenario to the original scene. When the scene panels back to the original scene, actors must act out why they are in a different position in an attempt to justify it.
The cast includes Ceci Bermudez, Salem senior, Pebble Payuer, Plymouth junior, Charlie Dixon, Canton sophomore, Kai Nichols, Salem sophomore, Max Stewart, Canton junior, Lucas Montressor, Plymouth sophomore, and Isa Routten, Salem sophomore. 
In past years, the show was primarily reserved for senior performers. As only one senior frequented the club this year, this year's event has been expanded to include juniors and sophomores. 
Toward the end of the show, Improv Club alumni and other club members without their own standalone acts will participate in the final act. 
Current club members encourage students to join.
The club is "welcoming and perfect for freshmen to check out," said Monstressor.
Other members echoed a similar sentiment. 
"[Joining the club] really helped out a lot, and gave me a lot of confidence," said Stewart. "As a kid I pretended to act with my brother a lot, and this just took it to another level."
Leave a Comment
About the Contributor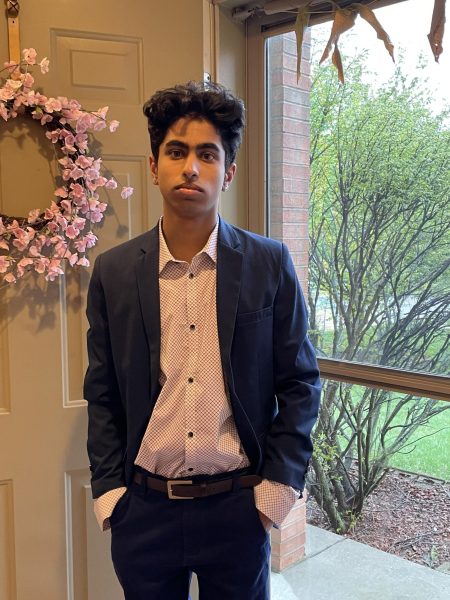 Jash Sarveshkumar, Co-Managing Editor
Jash Sarveshkumar is a Salem senior who joined The Perspective in the fall of 2022. He runs track in the spring and would like to get more involved with...