PCMB Finishes Season at Nationals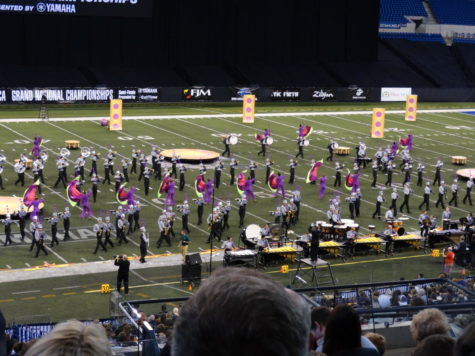 The Plymouth-Canton Marching Band attends Bands of America's Grand National Championships in Indianapolis, Ind. almost every year and consistently makes it to semi-finals, the second round of nationals. This year, Plymouth-Canton was one of only two Michigan marching bands to make it to semi-finals, along with Jenison High School. Overall, Plymouth-Canton placed 24 out of 100 bands.
Nationals was a long weekend for these students, with the band leaving early in the morning Nov. 9 and not returning until Sunday afternoon Nov. 12. The students spent all their time in and out of practices and performances making it difficult to find time to rest.
Even though they were far from home they still practiced a lot in order to perform
Photos courtesy of Stacey Studnicki
at their very best. PCMB performed their show at the preliminary round on Friday Nov. 10 at 4 p.m. in front of a crowd much larger than any other they had performed for yet so far in their season.
A lot of students look forward to nationals every year because the weeks leading into it are "push weeks," the two weeks before nationals, and everyone gets stronger as a group.
"It was awesome," Canton senior Jimmy Milleville said. "Everyone  was firing on all cylinders, and to end my last season with such pride and success was fantastic and an experience I will not soon forget."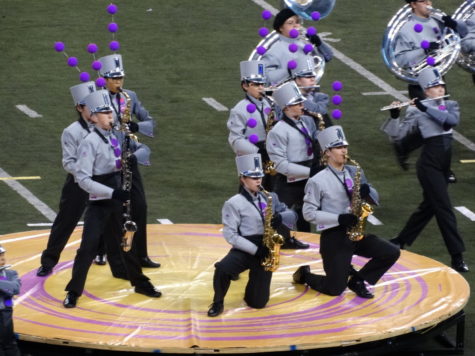 The students of the marching band had been working toward this weekend since May. For the senior class, this was the last chance to perform as a part of this program, which made for a very emotional weekend.
Canton junior Trace Rutman said, "Nationals is where the hundreds of hours of work you put in during the summer comes together and you put on the greatest show of your life, plus you get to do it with all your best friends."
Although the weekend is emotional for the seniors, everyone, no matter what grade they were in, was a little sad that the season was coming to an end.
Canton sophomore Jacob Keener said, "It was extremely cool to do something at a national level and compete with some of the most successful bands from around the country. It's a great feeling."