Clubs and programs at P-CEP are helping students' mental health
"The pandemic hit them [children] at key development sites in their life," Bridget Kocurek, counselor at Canton High School, said.
During and after quarantine for COVID-19, more clubs and programs have been created across the United States and at P-CEP to combat increasing youth mental health issues.
Even before the COVID-19 pandemic, there were major concerns regarding youth mental health and treatment in the U.S., according to Toni Rodriguez in "Impact of the COVID-19 Pandemic on Adolescent Mental Health". In 2017, 13.3% of adolescents experienced at least one episode of depression disorder, and 60.1% of these children did not receive treatment.
During and after the pandemic, however, these already-existing mental health issues among teenagers quickly escalated, said Sierra Campbell in "Sound the Alarm for Kids" for the Children's Defense Fund, a nonprofit organization that advocates for children. In 2020, the percentage of emergency visits for children ages 12-17 rose by 31 percent.
A variety of factors contributed to this increase, including the fact that children were not adjusted to daily routines after the unorderly mess the pandemic caused. According to Kim Eckart in "Youth mental health during the pandemic is better with more sleep, structure and time in nature" for the University of Washington News, having daily routines is associated with better mental health.
Kocurek said the lack of routine during the quarantine made returning to in-person school a difficult transition.
"During the pandemic, students weren't participating in systems the same way, and then they're being asked to reintegrate into systems every day."
This lack of systems takes its toll on one's mental health. Students forget what it's like to have routines, "like going to school every day, having passing time, lunch at a certain time," Kocurek added.
In addition, the social isolation that the quarantine caused contributed to the deterioration of youth mental health, said Giada Pietrabissa and Susan G. Simpson in "Psychological Consequences of Social Isolation During COVID-19 Outbreak" for the National Center for Biotechnology Information. Access to peers is critical to grow.
"Not having access to your peers kind of can stump that personal development," Kocurek said.
All in all, the quarantine led to increasing mental health issues among children.
To stay mentally healthy, individuals can get enough sleep, limit screen time and participate in activities that bring joy.
Regarding reading, one of her hobbies, Salem junior Ashika Gangur said, "Normally people might think that's not an escape, but I kind of like the way that my thoughts are put into words that I can't form myself." 
However, sometimes it's difficult for a person to improve his or her own mental health without the help of a professional.
"A lot of the times when you're going through a mental health episode, it's a bit debilitating, so you don't have time to work on yourself or improve yourself so that you feel better," Gangur said.
Getting help from a therapist can be difficult.
"Oftentimes the mental health feelings of young people are disregarded, and as a result, many mental disorders go undiagnosed," Mary Kate L'Heureux, Co-Chair of the Merch and Design Committee on Warriors for a Healthy Mind, said over email. "Many are scared to reach out for fear of backlash or the opinions of others."
Due to the deteriorating mental health among teenagers, schools, including P-CEP, are creating more programs and clubs to combat the decline. Warriors for a Healthy Mind, a club at P-CEP centered around mental wellness, focuses on making sure the students feel seen.
"The main goal of this club is to erase the stigma surrounding mental health," said L'Heureux. 
Getting rid of this stigma is a big step and could allow more students to reach out and get help, according to L'Heureux.
Clubs and programs focused on mental health are shown to have significant impacts. In 2021, Warriors for a Healthy Mind ran an event and had student speakers share their mental health stories.
"Multiple students have come forward in tears explaining that they related and didn't know anyone else was going through the same thing as they were," said L'Heureux.
Just knowing that one is not alone has profound effects. According to L'Heureux, there is always someone to talk to, and this mental health club has proved that.
Student Congress at P-CEP also focuses on making sure the students feel heard and eliminating the stigma surrounding mental health.
"I think it's really the main goal of Congress to help every student around us," said Mariella Ma, treasurer of Plymouth Congress, "because having issues with mental health shouldn't be stigmatized, and having a way that creates all-school support, especially from student leadership committees such as Congress, can help other people feel included and seen."
According to Ma, Warriors for a Healthy Mind stemmed from Congress. When Congress saw how much the student body was suffering from mental health issues, it created activities to help the students. These activities went on to be formed as a club. 
"[The creation of the club] really shows the impact that Congress has on the student body," Ma said.
The pandemic might not be the only factor contributing to social isolation, though. More caution might also be needed regarding technology to prevent it from causing mental health crises in the future.
"I think we've seen that technology has played a role in social isolation being an issue prior to the pandemic," Kocurek said. "While kids were in school—and you see it even still now—they're in school, but they're not with each other."
Leave a Comment
About the Contributor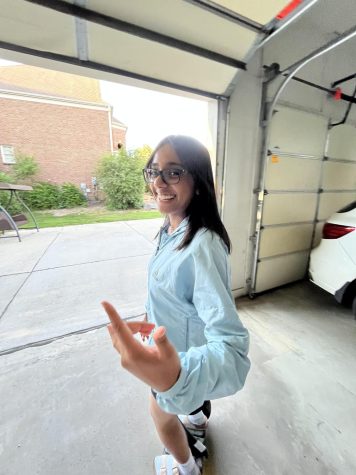 Sejal Naik, Copy Editor
Sejal Naik is a senior at Canton High School. She plays lacrosse and loves both reading and writing. She enjoys knitting, crocheting, photography and other...