Fall into this season's fashion
Khadega Mohammed, Claire Heise, Staff Writer, Co-Editor
October 26, 2016
Autumn has arrived, and nothing is more exciting than fall fashion. This year, turtlenecks continue to be one of the season's top trends. They are simple and timeless pieces that you can style with long necklaces, jackets or wear on their own. Pair with a bomber, jean or leather jacket, some skinny jeans and boots and you're good to go!
Bomber jackets are the new, cool outerwear. They've been all over the runway and they come in many designs and styles. Some have silk fabric and neat, stitched designs of tigers and dragons on them. Or if you prefer a classic look, opt for an army green one or a black one! These can be dressed up or down according to your moods, and they're great, flexible pieces for the season.
Adidas superstars look sleek and are versatile. You can pair them with your favorite Adidas sport jacket to achieve a sporty look, or you can wear them with a plain tee and jeans to get a minimal look. The spot of gold surrounding the logo adds a luxurious touch to the shoes. You can never go wrong with these shoes.
Chokers have been all the rage since last summer, and they just keep getting better. Long chokers are making a scene this fall; pair these with a sweater or a cool band t-shirt for a hip, grunge look or go for the original classic black velvet. Chokers are super easy and stylish to wear to any occasion and they certainly make a statement. They look good on everybody and can be found just about anywhere (Target has cute ones that come in packs of six).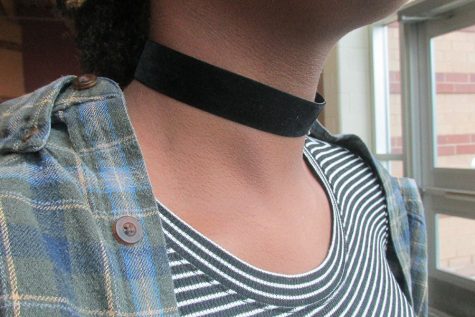 Grace Grelak
About the Photographer
Grace Grelak, Photo Editor
My name is Grace Grelak, and I am a Salem senior at the Park. I am so thrilled to pursue my title as photo editor for the P-CEP Perspective, but also get...