P-CEP speaks out at the Vital Student Voices Night
The school system. Human rights. Performative activism. The Black experience. Single-use plastic. Phones. These are just some of the many topics discussed by the various speakers during the Vital Student Voices Night, a public speaking event hosted by the newly rebranded P-CEP Speaks featuring over a dozen different speeches given by a wide array of students at P-CEP.
Live guitarist Alexander Hawkins, Plymouth junior, kicked off the Nov. 30 show in the Plymouth cafeteria and Jordan Fehlig, guitarist and singer, finished up the two opening musical performances. Once the music concluded, event organizers and co-presidents of P-CEP Speaks Melinda Carlisle, Canton junior, and Siddarth Ramkumar, Plymouth senior, took to the stage to introduce the speakers and the overall theme of "What makes your voice vital?"
"I've been to many schools," said Samah Suliman, Plymouth freshman, when presented with the question from Carlisle. "I've seen what has worked and what hasn't, and I have a lot of thoughts to share on how good things tend to run."
Multiple organizations around campus sent representatives to speak on various topics associated with their respective organizations. Such representatives included Riley Zou, a Salem freshman representing the Asian Pacific American Club and presenting "Things I'm thankful for as an Asian American," Gloria Ezenyilimba, a Canton sophomore representing the Black Student Union and presenting "The Black Experience," Shivangi Bhatt, a Salem junior representing the Human Rights Club and presenting "Why your rights matter," Suliman representing the P-CEP debate team and presenting "Performative Activism" and Nailah Spencer, Canton junior, also representing the Black Student Union and presenting "The Black Queer Experience."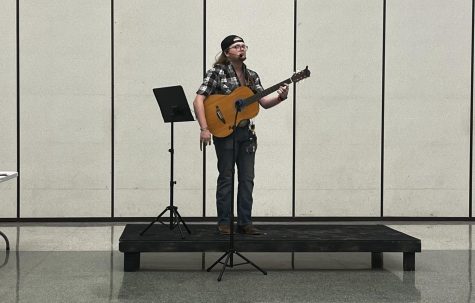 "Let me start off by asking, what do human rights mean to you?" said Bhatt, addressing the audience. "Does it mean knowing all the amendments to the United States Constitution, or does it mean protesting for what you feel is important? Although we may have different definitions of human rights, we can all agree that human rights are an important means of protection for us all, especially those who face abuse, neglect and isolation."
The wide variety of speakers allowed a wider variety of perspectives and backgrounds to be discussed. 
"I often times joke that I'm two minorities in one," said Spencer while presenting "The Black Queer Experience." "This joke is followed by a few laughs and some uncomfortable silence once the reality of what I have said sets in. Being Black and queer are two identities I can't escape. I can't change the color of my skin, and I can't change the way I am. Queer Black individuals have a lack of support, as we are often seen as minorities before we are seen as people. They are picked apart for being different and not following the stereotypes set for them. Queer Black people are from a young age viewed as unapproachable outcasts." 
Other presentations by students included Supraja Pattangi, a Canton sophomore presenting "Are you addicted to your phone?" Hannah Thomas, a Canton sophomore presenting "Out of the Cave," Hawkins presenting "What we say says about us," Carlisle presenting "The good kid," Sanvi Udatha, a Salem freshman and Dana Lara Acosta, a Canton freshman presenting "A comedic review of the school system," Shivani Vindhan, a Canton sophomore presenting "The risk of single-use plastic," Ramkumar presenting "Comparing yourself," Varun Vemulakonda, a Canton freshman presenting "The good in school" and Anniruddth Ramkumar, a Salem freshman presenting "The true measure of a test."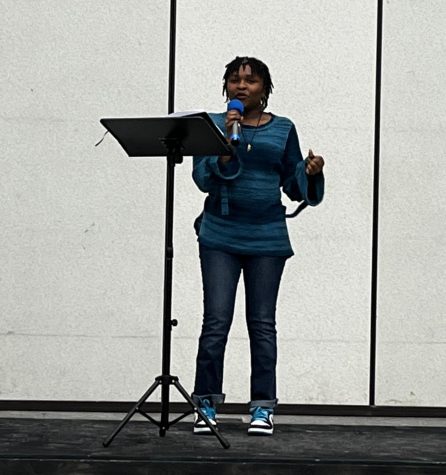 "A behavior buffer is a term that recently became popular on "Teachers of TikTok," and it is essentially where you take a 'good kid' or a group of 'good kids' and use them so that they are surrounding a 'weaker' or 'bad' student," said Carlisle while presenting "The good kid." But, as a person who has been a behavior buffer myself, I can tell you from personal experience that this leads to one thing and one thing only: the 'good kid' becomes miserable. They start hating the class, hating the teacher and hating the subject as a whole, because the adolescent mind makes them feel as if they are surrounded by idiots."
The overarching theme–that everyone has different experiences, and that they are all important– was reiterated throughout the night to stress the variety in the backgrounds of speakers.   
"I once heard my uncle tell my little cousin, who asked him if she could be a teacher, 'Well yes, but first you have to become a doctor,'" said Thomas while presenting "Out of the Cave." "I'm from the type of community where becoming a doctor is the objective, and where becoming an engineer is collateral for not becoming a doctor. At a young age, we are told that we need to achieve certain things, and we are chained to these ideas that we cannot escape from for most of our lives, which is a vital part of the story of Plato and the allegory of the cave."
The wide array of topics, ideas and experiences shared allowed attendees to hear a wide array of "vital voices" representing numerous different backgrounds and experiences. 
"My voice is vital for the same reason why everyone's is," said Hawkins. "Your voice is the only way to get your unique perspective heard by other people, and the only way to show that viewpoint to others. Not only is sharing your voice important but also listening to others. It's how we get a better understanding on not only how the world works but also how it seems, which is arguably more important to the human experience."
Leave a Comment
About the Contributor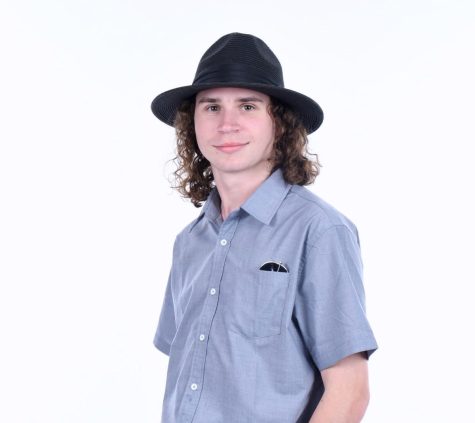 RJ Doroshewitz, Editor-in-chief
RJ Doroshewitz is a senior at Salem High School who has a wide variety of interests. In the fall, he'll be attending George Washington University in downtown...