Heard It in a Past Life
Released earlier this year on Jan. 18, Maggie Rogers' new album, "Heard It in a Past Life," was a hit. Rogers had her rise to fame after releasing "Alaska," critically acclaimed by Pharrell. She decided to release an EP and immediately became known for her distinctively indie voice.
"Heard It in a Past Life," was Rogers' next big move towards the pop music scene, mixing electronic production with her unique vocals. With such a contrast between the instrumental and her voice, every song is interesting to listen to.
"Give a Little" starts the album off with a bang. The song is different from anything Rogers has released before, while retaining her gentle pop influences. As one of my favorite songs on her new album, I get excited when I hear stores playing "Give a Little" over their speakers since the song deserves some recognition.
Rogers took more of a risk with "The Knife." The song showcases her gorgeous voice along with a catchy chorus that Rogers was lacking in "Alaska." Out of Rogers' recently released, "The Knife" is by far my favorite. The beat keeps the song flowing in a way that sweeps you away from the present and into Rogers' life. The song embodies everything that I think music is about – creating a world for the listener to get lost in.
"Alaska" was released again on "Heard It in a Past Life," along with another single, "Light On." This song easily gained popularity and stirred up more conversation about Rogers' upcoming album. "Light On" has a familiar ring to it, probably because you've heard it on the radio a few times. Rogers went back to her folk roots, beginning "Light On" with soft vocals while building up to a gentle pop beat during the chorus.
While "Say It" doesn't end the album, it perfectly sums up Rogers' change from folk to pop. I might be a little biased because "Say It" was the first song I listened to once the album was released, but it spotlights Rogers' raw talent as a singer and how high her range is.
"Heard It in a Past Life," was a fantastic album released by Rogers, proven by the album reaching number two on US Billboard 200.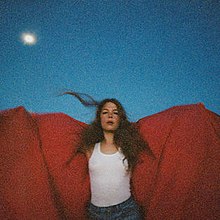 Leave a Comment
About the Contributor
Fiona Hughes, Editor in Chief
Fiona Hughes is a senior at Canton High School. In addition to being an Editor in Chief at The Perspective, she is the Program Director at 88.1 the park...