Eight candidates, four seats: Meet the people running in the 2022 P-CCS school board election
Eight candidates are running in the November 8, 2022 Plymouth-Canton Community Schools (P-CCS) School Board election.
P-CCS Board of Education Vice President LaRonda Chastang, teacher Amanda Krinke, P-CCS Board of Education Trustee Patti McCoin, engineer Nathan Morris, Schoolcraft College student Sebastien Ostertag, pre-school assistant teacher Sheryl Picard, P-CCS Board of Education Secretary Anupam Sidhu and district volunteer Judy Westra will all appear on the nonpartisan section of the general election ballot, alongside such elections as judicial races and library board elections.
The P-CCS school board consists of seven seats, and individuals elected to the school board serve six-year terms.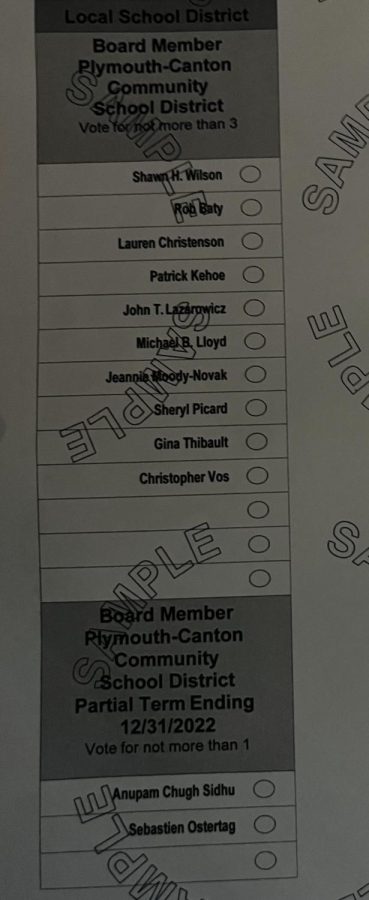 Of the eight candidates on the ballot, two—McCoin and Ostertag—are running against one another for a partial term expiring on December 31, 2024, while the top three vote-getters out of the remaining six candidates will be awarded a seat on the board. Each voter may only vote once for the partial term election but may vote for three of the remaining six candidates to represent the three open seats.
According to the National Center for Education Statistics, 16,632 students are enrolled within the district, making it the fifth-largest within the state of Michigan.
All eight candidates indicated they will attend the 2022 School Board Candidate Forum sponsored by The Perspective, where the candidates will respond to prompts about their stances on various issues including COVID-19 protocols, curriculum reform and more. 

All eight candidates responded to a survey from The Perspective, sharing information about themselves and their campaigns. 
LaRonda Chastang
LaRonda Chastang, the incumbent P-CCS Board of Education Vice President, is up for election for a full six-year term. Chastang was first appointed to the Board of Education on March 24, 2021 after Trustee Leonardo Savage resigned from office.
Chastang moved to the Plymouth-Canton district in 2015. She is the mother of three children, including a daughter who graduated from the district in 2020 and a son who currently attends P-CCS schools. 
Chastang is running to "continue working to advance the mission of our district, ensure strong, safe schools that are families' first choice for education and to improve relationships between families, school and the community."
Chastang stated that she believes that she provides a unique voice on the P-CCS School Board and that she understands that service on the board requires balancing the success of all students, ensuring that the administration remains accountable to the board and the community and seeking input from students, teachers and the community alike. 
Amanda Krinke
Amanda Krinke is a substitute teacher for the P-CCS district who grew up in the district; she is running for a six-year term on the P-CCS School Board of Education.
 She attended both Bird Elementary School and West Middle School, and she graduated from then Plymouth-Salem High School in 2002. She has two children within the district, a fourth-grade daughter at Gallimore Elementary School and a sixth-grader at West Middle School. 
She has taught in charter schools, public schools and in the nation of South Africa, and she received a bachelor's degree in elementary education and a master's degree in curriculum and teaching from Michigan State University.
Krinke is running for school board because "I've experienced our district as a student, parent and teacher.  I see our strengths and weaknesses, and I believe my experiences and perspectives will be a great asset to our school board.  I am willing to give my time to do whatever I can to help every student succeed in whichever path they take."
Patti McCoin
Patti McCoin, an incumbent P-CCS Board of Education Trustee, is facing off against Sebastian Ostertag for a partial term expiring on December 31, 2024. McCoin first won a seat on the board during the 2016 election, winning the second-most votes and securing one of the three open seats. She is currently a middle school Social Studies teacher in Detroit Public Schools Community District. 
McCoin has in the past served as president, vice president and secretary of the board. Before running for office, McCoin worked on both the 2013 Bond and 2016 Regional Education Service Agency (RESA) Enhancement Millage. She has a background in accounting and auditing and has also served on the P-CCS policy committee, which she currently chairs. 
McCoin has lived within the district for over thirty years, and her children attended P-CCS schools from kindergarten until high school graduation.
McCoin stated that she is running because "I am a current classroom teacher, and I feel that is a perspective that was often missing from the discussions; I understand how decisions affect the educational experiences of students and staff.  My children received an excellent education, and I want to make sure that all students in the district also receive the same opportunities."
Nathan Morris
Nathan Morris is an engineer who has lived within the district for seven years. He has two daughters, one aged four months and the other aged three years, who will soon be eligible to attend P-CCS schools. 
"It saddens me to see how far behind our nation has fallen in the fundamentals of reading, writing, and arithmetic," writes Morris in a biography written for the 'Get Kids Back to School PAC.' "The school's responsibility is to provide a classical education and teach critical thinking skills to equip all students with the tools necessary to succeed in whichever path they choose in life, whether that be a college degree, vocational school, or skilled trade."
Morris stated that he is running for the school board because he "wants to ensure a quality educational experience for the student body, their parents and my daughters."
Sebastian Ostertag
Sebastian Ostertag, a former P-CCS student now studying history and civics at Schoolcraft College with the goal of teaching high school, is facing off against Patti McCoin for a partial term expiring on December 31, 2024. Ostertag first ran for a partial term on the school board during the 2020 election, coming within eight percentage points of winning the election.
Ostertag attended P-CCS schools from kindergarten until he graduated from Salem High School in 2019, during which he served as a member of the Sex Education Advisory Committee.
According to Ostertag, he is running because he "wants to help students respect parents and support teachers." Ostertag stated that he still has friends attending schools within the district and that he "wants to attract families back to the district by putting students over politics. The current board has done the opposite, and many families have left as a result."
Ostertag declared that he is running as a self-funded independent candidate. 
Sheryl Picard
Sheryl Picard, a parent classroom volunteer and preschool assistant teacher, is running for a full six-year term on the board of education. She has lived in Plymouth for 36 years, and she has four kids who have attended P-CCS schools. In the past, she has served on the P-CCS Housing Committee and was involved in the booster clubs for both football and lacrosse. 
Picard first ran for the board in 2020 in an eleven-way race but did not win any of the three open seats. 
Picard is running because she is concerned that "the focus of our district is social justice at the expense of academics." 
She stated that she believes that "parents' rights are in jeopardy as the state of Michigan, as well as our district, believe that it is their responsibility to educate the whole child, thus infringing on the values and beliefs of the parents or family."
Anupam Sidhu
Anupam Sidhu is the incumbent P-CCS board of education secretary. She is running for a full six-year term after winning a partial term expiring on December 31, 2022 against Sebastian Ostertag during the 2020 election. She has served on the Board of Education for five and a half years, during which time she has also spent a year as president of the board and two years as vice president.
Sidhu has lived in Canton Township for over 20 years, and she has a child currently attending P-CCS schools. She has been involved in public education for over 25 years and "understands public education from both a micro and macro perspective."
Sidhu stated that she believes that "school board governance work requires a deep understanding of education policy, school board roles/responsibility, research and a commitment to excellence in improving student achievement and experiences for all students."
Sidhu is running for re-election because she "has seen tremendous progress along with challenges, especially during the past two years with the COVID-19 pandemic. We [the school board] are fortunate to be surrounded by great staff, students and community members who contribute to the greatness of this district. There is still much work to be done in ensuring that all students and staff have what they need to be successful. We need to acknowledge and respect all students for who they are while providing them with the best educational experience that will prepare them for the next phase of their lives. I am committed to working collaboratively in creating a safe, welcoming, high quality school district that is recognized as a leader in education where all students thrive."
Judy Westra
Judy Westra, a frequent volunteer within the P-CCS district and parent of a recent graduate, is running for a full six-year term on the board of education. She has lived in Plymouth Township for more than 20 years and moderates several district-wide Facebook groups. 
Westra stated that she is running because "the [COVID-19] pandemic and recent events in our community and nation made me see the educational disparities in our district and lack of transparency in some areas, most notably with school safety, cleanliness, bullying and equitable practices. I have the leadership skills and passion to hold our district and state accountable so that all children and staff can feel safe (physically and emotionally) in coming to school and are adequately equipped to succeed to their fullest potential. If elected, I will work with my fellow board members to ensure that recent educational, equity and safety policies are continued and expanded."
Westra stated that she is passionate about public education and the benefits it provides to the community, state and nation and that our schools and families deserve the best education that can be provided.
Leave a Comment
About the Contributor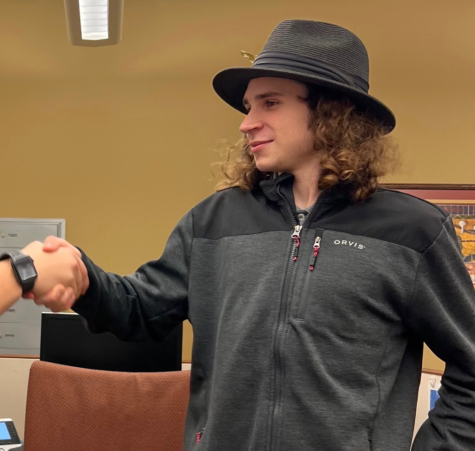 RJ Doroshewitz, Editor-in-chief
RJ Doroshewitz is a senior at Salem High School who has a wide variety of interests. He currently works in election administration and greatly enjoys politics....