I went through the new Course Catalog so you don't have to
As students prepare to sign up for classes, a number of changes to course offerings, some small and some large, have been instituted in the new 2023-2024 Course Catalog. 
Across campus, 14 new courses have been added to the roster compared to the last school year, while eight have been removed or replaced. Of the staggering 297 classes offered at the Park during the 2023-2024 school year, 41 courses are either new or have had some sort of listed change.
The English department
By far, the most dramatic shakeups came from the English department.  
Four new year-long classes were added to the list, while seven courses were removed. Several more were re-assigned to a different status. 
New offerings for juniors and seniors include African American Literature, a class focusing on the historical and thematic perspectives on works by African American authors; Multicultural Literature, a class reworked from the semester-long version, now focusing on works from various cultures and subcultures and examining how individual voices shape culture and society; Other Worlds of Science Fiction and Fantasy, a class "introducing students to a world of possibilities by reflecting on various 'What if…?' questions that are often posed through science fiction and fantasy" and 21st Century Global Issues and Literature, which focuses on texts and issues from around the world by allowing students to "explore these topics and develop their personal voice in expository, argumentative and narrative writing by reading mentor texts, current event sources, classic novels and by conducting research."
All four of the new classes, in addition to fulfilling the English requirements for the year taken, will meet the communication graduation requirement. 
Additionally, the introduction of these four new classes meant the elimination of many student favorites in an apparent attempt to consolidate the curriculum. 
Eastern Thought & Literature, a class studying Eastern philosophy and religion, Early British Literature, Poetry Seminar, Honors Shakespeare Seminar and the semester-long versions of both Science Fiction and Advanced Science Fiction have all been eliminated Additionally, Honors Composition & Writing Center, the course for "the most advanced students who are screened through an application process" and which was in charge of managing the Writing Center, has been officially removed from the Course Catalog despite being not in operation since 2019. 
English Structure and Usage, a course focusing on technical mastery of the English language (such as with grammar, punctuation and capitalization), Interpersonal Communication, a course focusing on "examining the communication process by studying self-awareness, verbal communication, nonverbal communication, listening, building and maintaining relationships," Studies in World Drama One and Studies in World Drama Two, classes focusing on the history of theaters and plays, have all been relegated to elective-only credits, rather than proper English credits. Students wishing to enroll in any one of these courses will also need an additional English course in their schedule. 
Additionally, Drama and Speech has been reclassified as a literature class instead of a writing credit. 
The Educational Foundations curriculum 
Educational Foundations is being reworked from a class into a full trade-based pathway for the upcoming school year. 
Formally known as "Kiddie Kampus," students taking the two-hour block will gain insight into the field of education and child development, working on lesson plans and activities for the on-campus preschool. 
Under the new changes, the individual class will be expanded into a three-class pathway, which, upon completion, will qualify students for either a Child Development Associate Credential, which will certify students to serve as a lead teacher in preschools, or a Michigan Youth Development Associate Credential, which will qualify the student for above entry-level positions and pay in out-of-school day programs and daycare. 
Sophomore and junior students will be able to take "Introduction to Educational Careers," a semester-long course covering child growth and development, career prospects in the field and job shadowing. Junior and senior students will be able to take "Educational Careers," a two-hour block program working in the on-site preschool and serving as the spiritual successor to the Kiddie Campus class, while seniors, only after completing Educational Careers, will be able to take Advanced Educational Careers, another two-hour block class where students will continue learning through work-based experience and will fulfill the last of the requirements needed for the aforementioned credentials. 
Other new course offerings around campus
Two new Automotive Technology courses are making their way to P-CEP: "Empowering Women in Automotive Technology," a semester-long Applied Mathematics credit open to all grades designed to "encourage students who may not traditionally pursue a career/own in automotive technology to learn about this field and eventually help grow into this career bringing their unique and valuable mindset and perspectives into the evolving world that is the automotive industry," covering topics such as vehicle maintenance, minor repairs and an introduction to how cars work. Additionally, "Electric Vehicle Design, Build, and Drive," a pilot semester-long two-hour block course focusing on the impact and design of electric vehicles, will have students in the class assembling their own, drivable electric vehicles. 
The Social Studies department will be adding "Asian American/Pacific Islander History, Culture, and Issues" to its roster, a semester-long class for all grades looking at the history and experiences of Asian Americans. Additionally, one new math class is entering P-CEP: "Understanding the World through Mathematics," a semester-long course for juniors and seniors promising to take a look at current events and topics affecting society and culture through a mathematical lens. 
Additionally, Educational Strategies, a semester-long course for sophomores, juniors and seniors serves as "a one-time intervention to provide academic support and skill development for students in the general education curriculum." The new semester-long Entrepreneurship class for juniors and seniors serves as an introduction to the field of entrepreneurship, exposing students' characteristics of entrepreneurs and guiding them to "choose a business of their own to 'open,'" and, by the end of the course, create a professional business plan. 
The Agile Development through English Language Arts class, a course "designed to immerse students in real-world application of Computer Science and English Language Arts skills," is no longer offered at the Park. Previously, junior and senior students would brainstorm, research and design some form of innovation, guided by teachers and professional industrial partners. In its place will come "Project Launch Roadmap," which promises to lead students to create products as employees through an already established business, centering on the daily roles of individuals in business through the Agile Development method. 
Also new to the roster is Hospitality Management and Tourism, a senior-only year-long class focused on providing the skills and knowledge needed to enter a career in Hospitality Management. The class may count for the Applied Art credit, Applied Mathematics credit or the second-year World Language credit.
Other tweaks to already-existing classes
Under the new class offerings, students will have many opportunities to fulfill the second-year world language credit: AP Computer Science, the Business Administration and Management class, Advanced Automotive Technology and Cybersecurity all now specify that they satisfy the requirement. Additionally, some classes may meet the graduation requirement in pairs: taking both AP Computer Science Principles and Computer Science Essentials qualifies as a replacement for a second-year world language; taking both the "Web Design and Internet" class and the Photoshop class qualifies; and taking both Accounting One and "Honors Financial and Managerial Accounting" will qualify for students. For all three of these pairs, taking just one of the two classes does not meet the second-year language credit. 
A number of classes have moved to expand the range of students they are offered to: American Media Studies, Michigan History and "Automotive Maintenance and Ownership" have expanded from the grade ten-to-twelve range to the grade nine-to-twelve range, and "African-American History and Culture" has opened up to sophomores, when it was previously offered to just juniors and seniors.
Conversely, some classes reduced their age ranges: sophomores can no longer take Comic Books & Graphic Novels as it is now only open to juniors and seniors, as is the case with Real Estate Essentials, which additionally specifies that the course prepares students to take the Michigan licensing test at age 18 and upon completion of the class. 
Leave a Comment
About the Contributor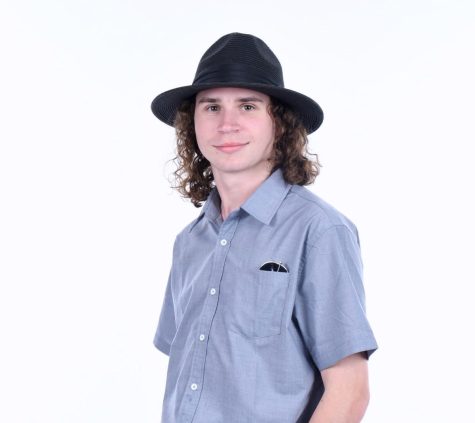 RJ Doroshewitz, Editor-in-chief
RJ Doroshewitz is a senior at Salem High School who has a wide variety of interests. In the fall, he'll be attending George Washington University in downtown...